Thanks to quite a few free PC Information, Optimization and repair utility suites the user is now able to choose a suitable pack for their personal needs, and to further widen the existing offerings IObit has now came up with an excellent collection of 20 dedicated tools allowing users to fetch diagnostic information, enhance security, optimize performance and repair PC problems neatly packed as an free, portable toolbox named - "IObit Toolbox".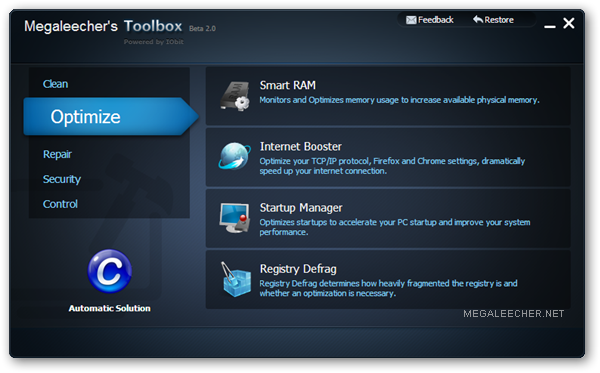 As the title says the great part is that you can customize the toolbox branding to have your own/company name and logo as shown in image above.



More than 20 dedicated tools in one place - IObit Toolbox is like a Swiss army knife, with more than 20 computer tools in one place, you have more than 20 powers to diagnose and fix PC problems, including cleaning, optimizing, repairing, security and fully control.
Completely portable, no installation required - IObit toolbox requires 0 installation. You can take it along with you in any portable devices, like flash disk, to solve PC problems anytime and anywhere. Also it eats little room in your disk.
Powerful and easy-to-use - Each admin tool in IObit Toolbox is stand-alone and powerful. They are capable of handling different tasks perfectly. Of course, they are organized professionally and very easy-to-use.
Totally Free - Tools like IObit Toolbox can cost you $200 or more! You no longer need to search on the internet and do the collection yourself, you don't need to pay! In IObit Toolbox you will find computer tools you want for free.
Easy Customization - Make yourself an own toolbox with your company brand, all we require is to leave the "powered by IObit" part.
| | |
| --- | --- |
| Tool | Function |
| Disk Cleaner: | Analyzes unnecessary files in hard disk and cleans them up to enlarge available disk space. |
| Registry Cleaner: | Registry Cleaner will clean up your registry database frees your system of unneeded ballast. |
| Privacy Sweeper: | Erase your activity history and surfing traces. |
| Uninstaller: | Helps you to uninstall programs in your computer. |
| File Shredder: | File Shredder makes sure that no data thief can get his hands on your sensitive data. |
| Smart RAM: | Monitors and Optimizes memory usage to increase available physical memory. |
| Registry Defrag: | Registry Defrag determines how heavily fragmented the registry is and whether an optimization is necessary. |
| Internet Booster: | Analyzes your internet and optimizes it. |
| Startup Manager: | Optimize startups to accelerate your PC startup and improve your system performance. |
| WinFix: | Analyzes your windows operation system and helps you to fix problems. |
| Disk Doctor: | Disk Doctor performs analysis of your disks and their file systems. |
| Shortcut Fixer: | Searches your system for non-effective shortcuts and references and fixes them. |
| Undelete: | Undelete will restore deleted files after you have emptied the Recycle Bin. |
| IE Helper: | Manages Internet Explorer add-ons, system context menu, and restores hijacked settings. |
| Process Manager: | Manages running processes and displays the performance of your system. |
| Security Holes Scanner: | Scans and fixes security holes automatically. |
| Cloned Files Scanner: | Searches for cloned files in your system which may waste your disk space. |
| Empty Folder Scanner: | Helps you to find empty folders in your computer and deletes them. |
| Disk Explorer: | Analyzes your drives to show disk usage of your files and folders. |
| System Information: | Collects and displays detail information of your system. |
| System Control: | Helps you to change operation system settings. |
IObit Toolbox is designed to work on Windows 7, Vista, XP and 2000 (32bit or 64 bit) and can be downloaded from here - http://www.iobit.com/toolbox.html .