With time computer file-system becomes fragmented and defragmentation is required to achieve optimal computer performance, Windows provides basic disk-defragmentation utility and suggest running it as a part of regular scheduled system maintenance routine, the built-in Windows defragmentation utility has some limitations and specialized software utilities exist to fill these gaps offering better defragmentation for maximum system performance.
One such professional utility is Paragon Total Defrag 2009 offering total file system defragmentation and optimization using low-level defragmentation to achieve almost zero fragmentation level, the utility costs $29.95 to buy but you can get a free legal copy under a special promotion as discussed at the end of the post.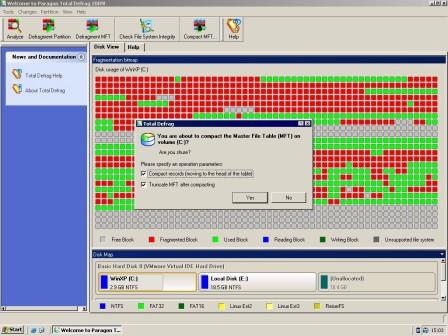 Bootable CD image with "run-from-CD" edition included
Online/Offline defragmentation of disks/volumes including RAID systems
Defragmentation of GPT disks as well as MBR disks
Defragmentation of dynamic volumes
Two defragmentation modes: Fast and Safe.
Unique low-level file system defragmentation and optimization algorithms
9 different defragmentation strategies
Boot-time defragmentation of critical system files
Ability to speed up launch of applications
Ability to maximize file system performance
Complete file system optimization including directory consolidation, paging files, Master File Table (MFT), metadata, registry hives etc.
Low free space defragmentation (less than 1% of free space on the hard drive required)
Visit this special promo link, fill-in your information and submit.

You will receive your registration details via email.
Download the setup and install using your serial number received by email to enjoy full-version copy.