Internet Explorer 9 Beta is finally here and after playing with it for a while all I can say is "really impressive", Microsoft has done there homework and the result is a next generation, powerful web-browser ready to take-on the competition. The layout is perfect, speed is awesome and has every aspect of a modern web-browser to make it the user default choice.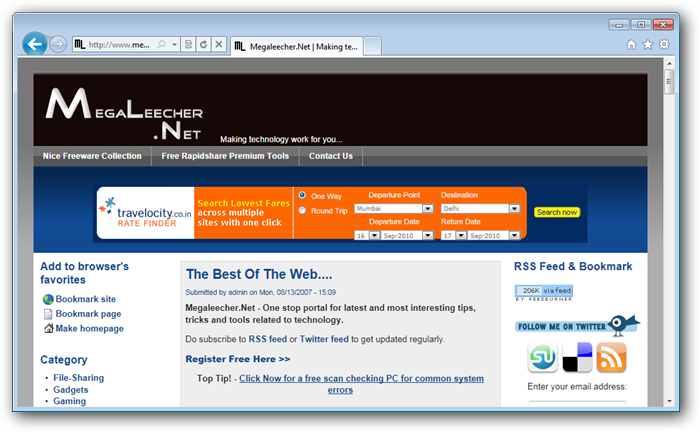 Streamlined design - What IE Team was hiding the whole time during developer preview builds was this beautiful compact user interface, one of the very best feature of this new incarnation of Internet Explorer.
Pinned sites - IE9 allows you to PIN your favorite websites to the taskbar and start menu, simply drag-n-drop the website favicon to taskbar and you can have fast access to it anytime.

Makes your sites shine - Another innovative approach here, when launching pinned websites the IE logo is replaced with site favicon and the neighboring buttons are colored accordingly giving you a more native-app like feel.

Add-on Manager With Performance Adviser - Displays performance impact of installed addons letting users disable speed bottlenecks.

Hardware acceleration - IE9 makes full use of your computer hardware to render pages fast, the effect is clearly visible when scrolling pages.
OneBox search in address bar.
New tab functions with a brand new speed-dial style tab page for quick access to most visited websites.

New Notification Bar - The new Notification Bar appears at the bottom of the browser providing important status information when needed.
Download Manager - Neat and clean download manager.
IE9 Beta is only available for Windows 7 and Vista and the download is made available as an web-installer which requires an active internet connection to install, if you require a full offline setup (which comes in handy specially when you need to install it on multiple computers) we have it for you EXCLUSIVELY - sizing ~ 23.1 MB the installer for Windows 7 32 Bit can be grabbed from here.