Finally, the Indian currency Rupee has got it's very own symbol, previously denoted as Rs. or INR (internationally) the currency now has it's own symbol like $ (US Dollar), £ (British Pound), ¥ (Japan Yen) or € (Euro). Since, the new symbol is not yet part of the UNICODE you will need to use special font to use it in your documents - the font can be downloaded from the link provided at the end of this blog post.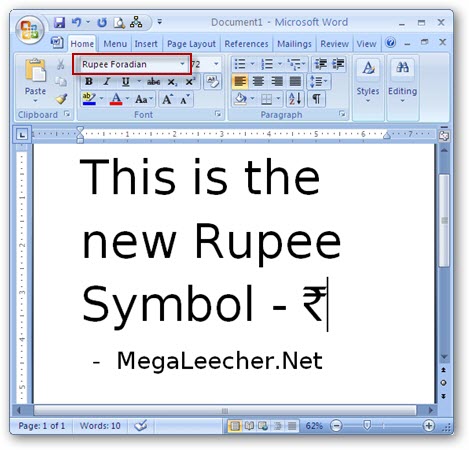 To start using the new Indian Rupee Symbol, follow the steps below :
Download Rupee Font from here.
Install the font, use instruction here - http://www.adobe.com/type/browser/fontinstall/instructions_english.html.
Launch Word or any other application and select 'Rupee Foradian' as the font, you can use the ~ character on your keyboard to insert the rupee symbol.
As mentioned earlier since the symbol has not been implemented in UNICODE yet, you will need to use the font to get it working in applications and special tricks like this or this to make it appear in html webpages. If your work require frequent use of Rupee symbol you can also use the Rupee Foradian Font and make use of ASCII code ALT + Numpad 96 to insert it.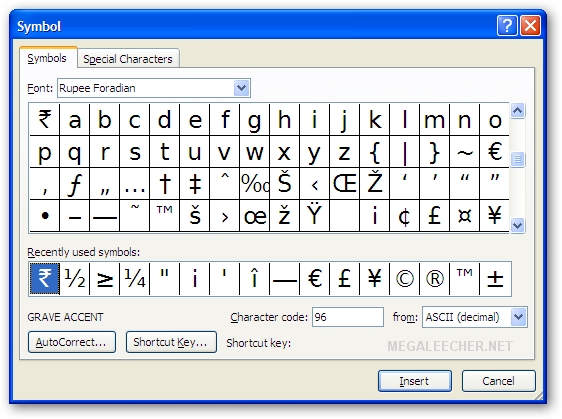 To insert the Rupee symbol in your Webpages you can also use the new service WebRupee which provides a simple, cross browser method for using the Rupee symbol on the internet.