EASEUS is a well-known brand specializing in easy to use data-recovery and backup software development, few days ago they did an exclusive promo with our blog giving away unlimited free licenses of Partition Table Doctor utility to our readers - now we have another promotional giveaway of unlimited free licenses of EASEUS Data Recovery Wizard V 5.0.1 worth $69.95 for our blog readers.
The newest version EASEUS Data Recovery Wizard V 5.0.1 supports advanced data recovery from Hard-disks, RAID's, USB drives, memory cards etc. allowing users to get back their deleted files or lost data due to partition loss or damage done because of software crash, virus infection, unexpected shutdown or any other unknown reasons.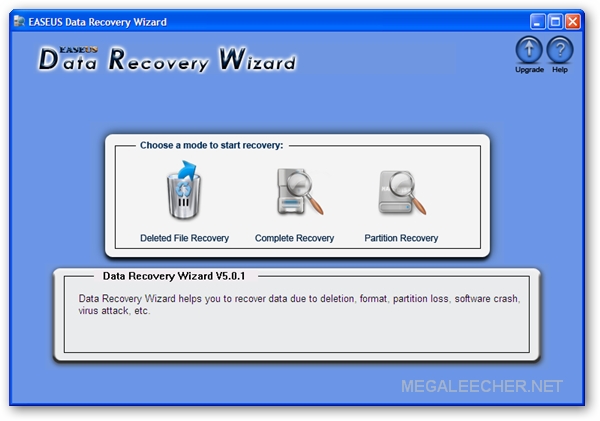 EASEUS Data Recovery Wizard V 5.0.1 Features :
# Recover deleted or lost files emptied from the Recycle Bin.
# File recovery after accidental format, even if you have reinstalled Windows.
# Disk recovery after a hard disk crash.
# Get back files after a partitioning error.
# Get data back from RAW hard drives.
# Recover office document, photo, image, video, music, email, etc.
# Recover from hard drive, USB drive, memory card, memory stick, camera card, Zip, floppy disk or other storage media.
# Support FAT12, FAT16, FAT32, NTFS/NTFS5 file systems.
# New! Windows 2000/XP/2003/Vista/2008/Windows 7.
# Bootable media based on WinPE.
# High quality of file recovery.
You can download the fully functional retail version (does not require registration) legally from the link provided below (we were asked not to link directly to avoid server load so it's uploaded on Rapidshare), as the previous giveaway we are not limiting the downloads or asking you to do anything to get it but if you are downloading please do leave a comment thanking EASEUS for the giveaway once again.
EASEUS Data Recovery Wizard V 5.0.1 Full Retail version Download Links [Size - 3812 KB]: