There exist hundreds of fake anti-spyware and anti-virus software's with the sole aim of forcing computer users into paying for removal of nonexistent malware, these genre of fake products is known as Rogue Anti-Spyware Products, these malicious applications gets installed on computers by deceiving users using false advertising or by taking advantage of security vulnerabilities, once installed these applications display false malware detections, nagging user with false security alerts and even disable access to certain functions urging users to buy the product and remove detected malware's and restrictions.
One of the most common rogue antispyware application is MS AntiSpyware 2009 and MS AntiVirus 2009, once installed this rogue antispyware nags user with fake alerts and buy now dialog boxes.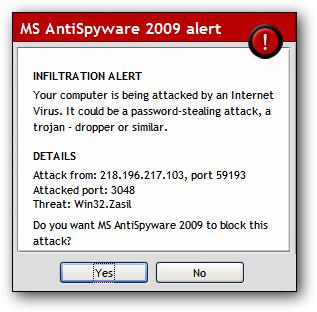 Luckily this particular rogue software is pretty easy to uninstall, all you need to do is to download free anti-malware software MalwareBytes and run a scan, this will detect this fake anti-malware and get rid of it easily.