Yesterday, I shared a post on how to recover data and file-structure from a corrupt SDCard. The solution works perfectly for cases where the card/disk has Backup "file-system Boot sector" intact, but what if both get corrupted? Well, in that case we are left with no other option than to bypass the "file-system registry record" and "Scan" the SDcard to find and recover maximum data possible or somehow manage to fix the corrupt "boot Sector" record of the file-system.
After reading yesterday's post, one of our reader contacted me for a fix to this exact problem where both Main and Backup boot sector records are corrupted as shown below. Here is a guide on how to recover maximum data possible in such situation.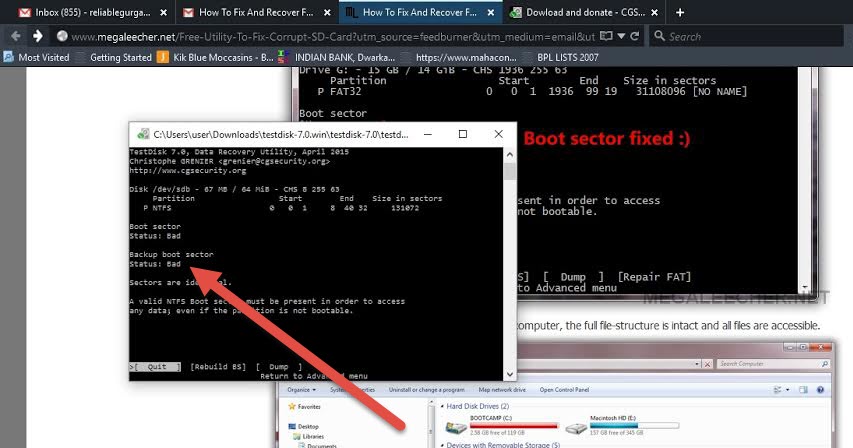 TestDisk can search the "MFT (Master File Table: $MFT)"/"its backup ($MFTMirr)" to get MFT record size, cluster size and the size of the Index Allocation Entry in the root directory index to compute and provide a new boot sector. Finally it lets the user list the files before writing. Use the "Rebuild BS" option as shown below to do this.
If MFT is corrupt you can use TestDisk to try fix that also, Goto Advanced menu -> select your NTFS partition -> choose Boot -> Repair MFT.

While this would be the last and ONLY option you should have been left with if the above does not work, I have found PhotoRec, which comes along with TestDisk as better than many other options out there in recovering files. You can use the PhotRec GUI (qphotorec_win.exe) or command-line (photorec_win.exe) to do so.
I opted for command-line and it found and recovered almost 4x files compared to another popular Windows utility.