In my ongoing quest to get an free, lightweight and fast download manager with remote access ability for Raspberry Pi. I settled for Transmission to get torrent downloading and pyLoad for ftp/http downloading, however both of them have issues under limited resources of Raspberry Pi and had frequent crashes now and then.
After, a lot of research, tweaking and testing - I had finally found the best option for a perfect lightweight download manager on linux as "FatRat". Despite the name being FatRat, this open-source download manager for Linux is written in C++ and is slim on requirements, fast on performance and comes with all the bells and whistles one would need from an modern download manager including Segmented HTTP(S)/FTP downloads, FTP uploads, and a super-fast web-ui for remote access.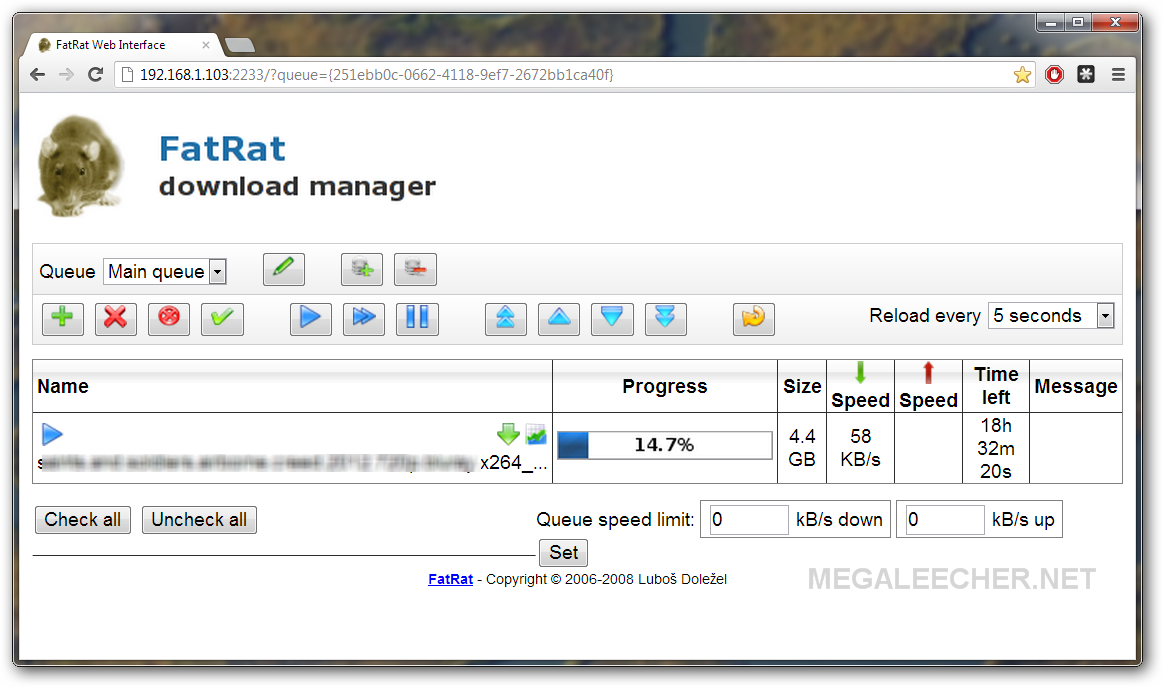 Segmented* HTTP(S)/FTP downloads
FTP uploads
Support for SOCKS5 and HTTP proxies
RSS feed support + special functions for TV shows and podcasts
BitTorrent support (including torrent creating, DHT, UPnP, encryption etc.)
Torrent search on major torrent sites incl. The Pirate Bay, EZTV, BitTorrentMonster...
RapidShare.com FREE and premium downloads and uploads
RapidShare.com link verification and folder extraction
RapidSafe link decoding
MD4/MD5/SHA1 hash computing
Remote control via AJAX* web interface and Jabber
Subtitle search
RAR/ZIP file unpacker
Scheduler
Clipboard monitor
Use apt-get install fatrat at terminal and complete the installation process.

Once installed, FatRat can be launched in headless mode using the fatrat -n (--nogui) switch.
To enable the webinterface from command-line use - fatrat-conf -w remote/enable=true remote/port=PORT remote/password=PASSWORD.
Now to control FatRat remotely, launch the web-browser and navigate to http://YOURLANIP:FATRAT_PORT.
FatRat web-inteface is super fast and feature rich. You can add new downloads.

Browse a location to save downloaded files.

Check download stats and control status.

If you are using FatRat on a regular Linux desktop environment or over VNC, you can use the excellent, powerful user-interface for advance options and features.