Microsoft has ceased development of it's personal-finance management software Money Plus, and special versions dubbed "Microsoft Money Plus Sunset" are now made available for free which requires no activation and does not comes with any online feature.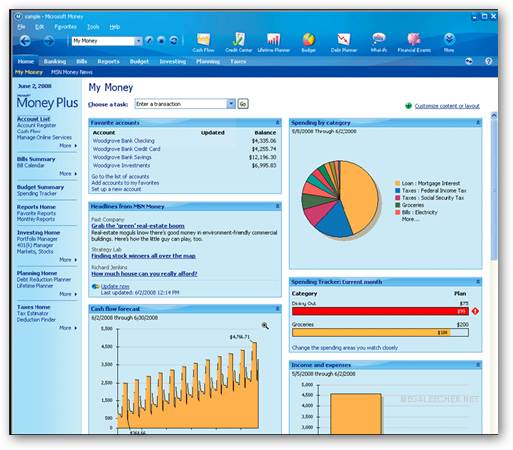 Microsoft Money Plus 'Sunset' Versions

The Microsoft Money Plus Sunset versions are replacements for expired versions of Microsoft Money Essentials, Deluxe, Premium, and Home and Business. They allow existing customers to use MoneyPlus to continue accessing their data. Changes to the new versions include file conversions from older versions of Money, no required activation, no online services and no assisted support. Microsoft Money Plus Sunset is available now.

We encourage consumers currently using Money Plus with online services to retain their current version to take advantage of the online services until they expire. The Sunset versions do not support online services.

Background and Details
Microsoft stopped selling Money on June 30, 2009. The last version (Money Plus, or Money 2008) required online activation in order to be fully functional. Online activation was also required for every machine onto which Money Plus was installed. Now that Money Plus is no longer available for purchase, the online activation step will eventually become unnecessary and unsupported. This Money Plus Sunset package removes the activation requirement.

All Money Plus users whose online services expiration date is listed as on or after Jan. 31, 2011, should continue to use their existing copy of Money Plus (or older versions of Money) to retain online service until termination.

On Jan. 31, 2011, all online services and assisted support for all versions of Money end.

The Microsoft Money Plus Sunset versions provide an alternative version of Money with the following:

# No activation requirement. This version can be installed/reinstalled as needed without a requirement to activate

# No online services. Discontinued services include online quotes, bill payment, statement downloads initiated by Money, data sync with MSN Money, etc. If your financial institution provides OFX or QIF statement downloads, the Sunset versions will allow you to import those statements into your Money file

# Online Help is replaced with a local Help file

# No Assisted Support. Self Help and community support may continue to be available for a few more years

# File conversion from older versions of Money. The Sunset versions are able to open and convert Money Plus files and files from older versions of Money (e.g. Money 2006, Money 2007). The Sunset version cannot convert files created by regional (non-US) versions of Money

Money Plus Sunset is available in two versions:

# Money Plus Deluxe Sunset – designed to replace Essentials, Deluxe and Premium
# Money Plus Home & Business Sunset – designed to replace Home & Business

Both versions can be found by going to the download center at http://microsoft.com/downloads, and searching for "Money Sunset."