Radio stations once reigned the world of entertainment. However in today's ever changing world of technology, the way we listen to radio stations had greatly evolved. All you need to do is to connect to the Internet and stream different radio stations from all over the world.
Really that easy you can now relish live music, listen to talk shows, radio dramas and all others. Along with the popularity of Internet radio stations come Internet radio recorders. There are many reasons why one needs to record online radio stations. For example, you want to grab popular tracks, save a copy of favorite music or record radio discussions for later playback. To this end, it is very important to have a great and quality Internet radio recorder. Tons of them are available on the market but for your convenience, we have reviewed only the best. Check them out after the jump.
Top 5 Free Online Radio Recorders
For those who want to save some spaces on hard drive or simply don't want to install additional programs, you can check out the Apowersoft Free Audio Recorder. It is an online-based app that does not require you to sign up, install or pay fees, just go straight to the web app and record online radios. It can record any sound playing from your computer in all the common audio formats with high quality preservation.
Using it is also simple, just click the "Start Recording" button from its webpage and choose "Allow" when Java notification pops up. After launching the recorder, all you need to do is to hit the "Record" icon to capture live radio streams. Additionally, you can use this radio recorder to convert audio files as well as create scheduled tasks for utmost convenience.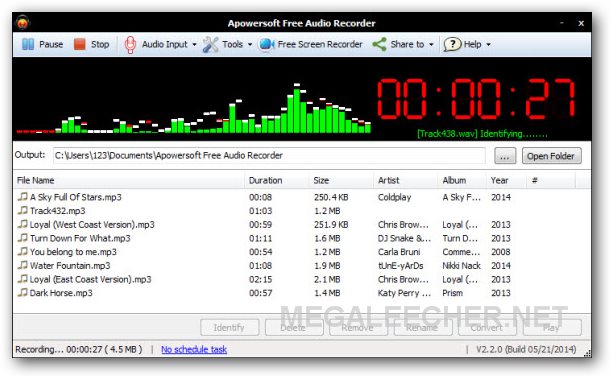 With its lightweight file size of just 10.71MB, the Free Sound Recorder does the job good when it comes to recording audio streams. It allows you to save recorded files into WAV format and gives you an option to edit or convert it according to your desires. You can equally use it to record sounds from external input devices, schedule recordings and personalize hotkeys and more.
Before utilizing the software, you should install and open the program on your desktop PC. Then, hit the Red recording button to capture playing sounds whilst clicking the "Stop" button will end the recording process. However, bear in mind that although free, some features of it are only available for premium users.
If you are looking for a tool which is able to record and edit audio free and efficient, Audacity is a great choice. Audacity is an open-source recording and editing software capable of capturing high quality audios without spending a single dime. It can record live radio streams, playing MP3s and audios from external sources with a single click. Moreover, it is equipped with sound effects and editor for you to personalize your music.
Just like any other Internet radio recorders, using Audacity to capture live streams is easy. You can click red round button to start recording, and you can hit yellow squared button to terminate it. Conversely, beginners will find it hard to manipulate grabbed audios due to Audacity's too technical editing functions.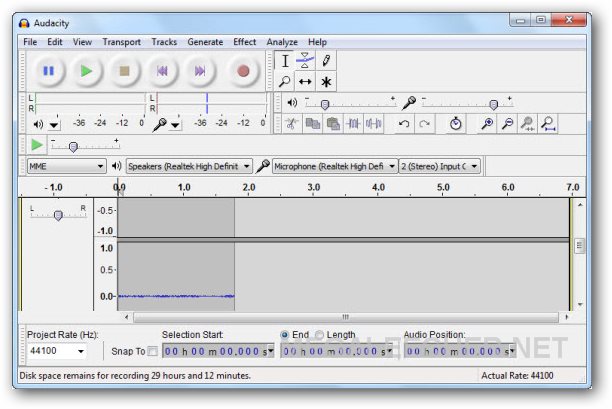 Another free Internet radio recorder you can try is RadioCatch. This tool can record live radio streams, web playing MP3s and all audios played on your computer. What makes it a great Internet radio recorder is that it lets you search radio stations. Additionally, there is an option to create your own radio station playlist allowing you to add only the contents you want.
Scheduled recordings, built-in music player, and voice active system are just some of the things RadioCatch offers. The only downside of this software is that it supports a limited number of file formats. Also, you cannot use the same application to convert audio files according to your needs.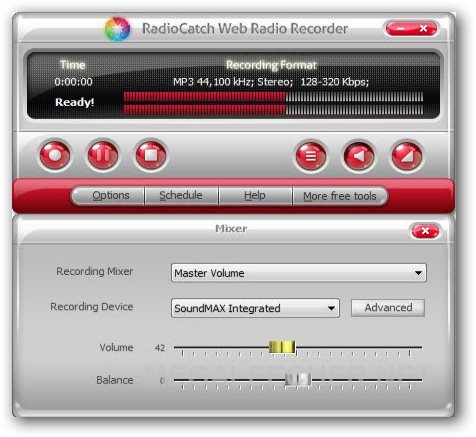 Just like any other radio recording software, the Weeny Free Audio Recorder can record all sounds playing from your computer. Streaming music contents, live radio music, sounds from external sources and line-in devices, Skype conversations, name it and the program can freely capture it. This Internet radio recorder is popular amongst users due to its small size of just 2.8MB. Using it to capture favorite songs from radio stations is simple, all it takes is a single click from the "Recording" button.
On the other hand, it can only support MP3 and WAV audio formats. It doesn't have conversion functions as well as editing features. What you've got from Weeny Free Audio Recorder is a simple sound recording tool, no more and no less.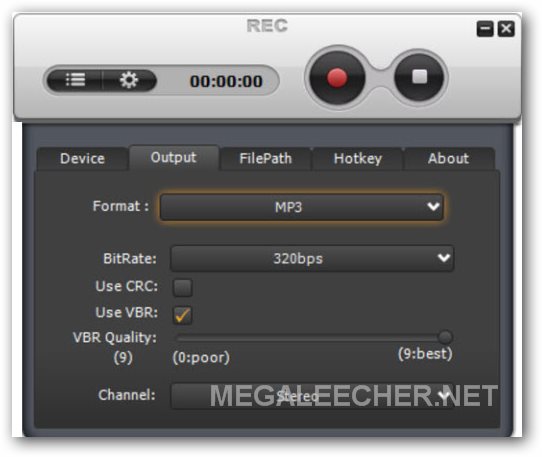 Now, you don't have to spend a fortune just make use of an efficient and truly free Internet radio recorder. When choosing the right tool, look for the one with great music recording capability as well as flexible functionalities like editing and converting.