Improve PC Performance
Submitted by admin on Fri, 05/20/2011 - 11:04

Newest version of popular PC cleaning, repairing, and optimization utility suite IOBit Advanced SystemCare 4 is out now, greatly improved from it's previous versions the free program allows users to fine-tune their computers for optimal performance. The new version features improved core engine and program structure delivering a much better, comprehensive and deeper system cleaning, repairing and optimization experience, that's not all this time IOBit has incorporated new security features into the application for protecting user PC's from more security threats and privacy compromises. Another worty mention would be the the enhanced "Turbo Boost" mode, which detects and shutdowns unnecessary background processes and services leaving more resources for faster computing experience when needed.
Submitted by admin on Sat, 08/28/2010 - 14:07

"TuneUp Utilities" is a well-known software and you must have came across it if you ever quested for a complete PC maintenance utility suite, we have posted tips on grabbing a fully-functional legal versions of this utility suite regularly i.e. TuneUp Utilities 2007, TuneUp Utilities 2008, and now it's time to grab a personal registration key for TuneUp Utilities 2009 absolutely free.
Submitted by admin on Sat, 08/14/2010 - 10:15
Thanks to quite a few free PC Information, Optimization and repair utility suites the user is now able to choose a suitable pack for their personal needs, and to further widen the existing offerings IObit has now came up with an excellent collection of 20 dedicated tools allowing users to fetch diagnostic information, enhance security, optimize performance and repair PC problems neatly packed as an free, portable toolbox named - "IObit Toolbox".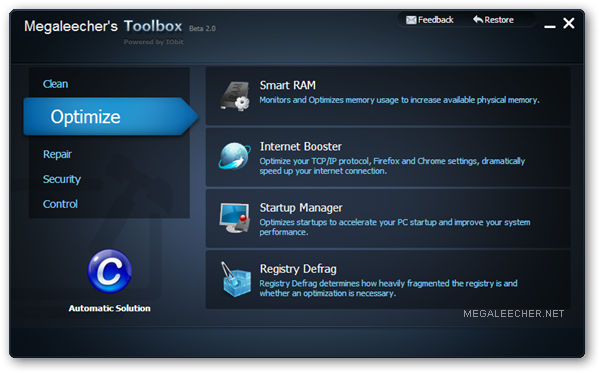 As the title says the great part is that you can customize the toolbox branding to have your own/company name and logo as shown in image above.
Submitted by admin on Wed, 07/21/2010 - 10:14

A properly tweaked system is must for optimal PC performance and Windows utility System Nucleus is another great freeware to achieve this. The powerful system utility suite comes with fairly advanced features to view, edit and manage system resources and settings, the consolidated functionality set is designed to make these tasks easier than ever from a single interface. Developer of System Nucleus has put emphasis on batch processing, filtering, and easy visual identification of items using distinctive icons.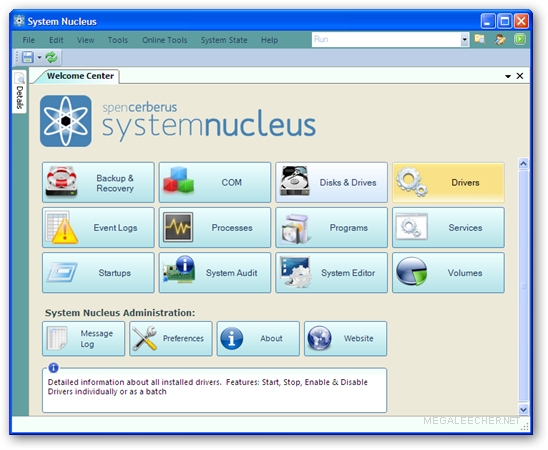 Equipped with modules like System Audit, System Editor, Startup Manager, Backup & Recovery, Windows Application Menu, System Tray Menu, Program Manager, Disks & Drives, Detailed Information, Smart Run and Customizable SetOnce Interface makes it a comprehensive toolbox to tweak your computer, the utility is designed to make batch administration operations easy like kill multiple processes, uninstall multiple applications etc.
Submitted by admin on Sun, 02/28/2010 - 12:39

Software vendor Comodo is churning out some great free software these days, after delivering a promising secure web-browser Dragon Internet Browser the company is now offering an absolutely free Windows maintenance utility dubbed "Comodo System-Cleaner", the utility supports almost all platform of Windows and features a junk file-cleaner, disk registry-cleaner, and an privacy cleaner including unique feature SafeDelete™ which safeguards users against accidental file deletions.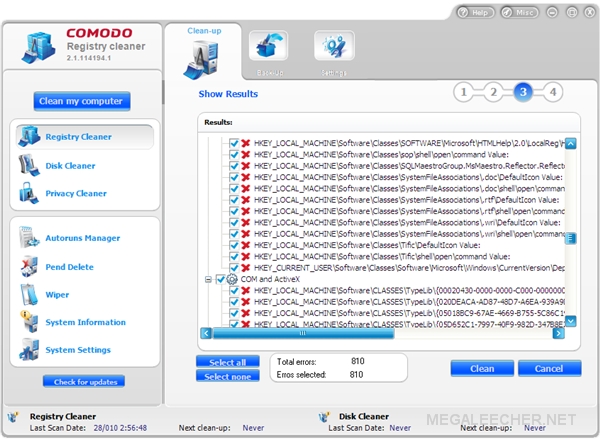 Submitted by admin on Mon, 02/08/2010 - 05:37
System Mechanic, TuneUp Utilities and IOBit Advanced SystemCare are few well known examples of computer tuneup and maintenance utility suites but if you are looking for something which is free luckily we have one such utility suite - TweakNow PowerPack 2009.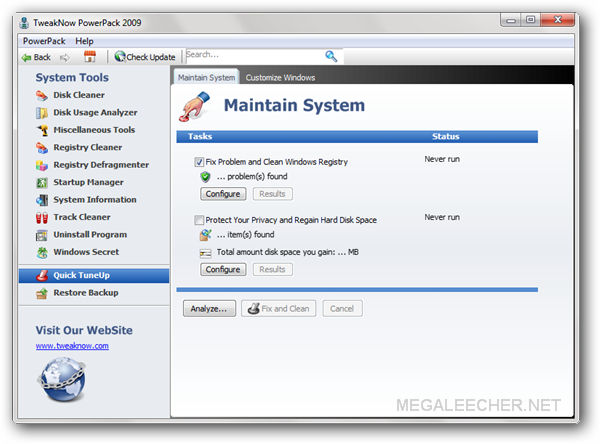 TweakNow PowerPack is a fully-integrated suite of utilities which lets you fine-tune every aspect of your computer's operating system and Web browser to achieve optimum performance.
Submitted by admin on Fri, 08/21/2009 - 05:23

One of the oldest and most popular PC maintenance application suite iolo System Mechanic needs no introduction, earlier tips on how to grab your own fully functional genuine free license keys for System Mechanic 6 and System Mechanic 8 were shared on this blog and you loved them.
Now, here is another chance to grab your personal genuine registration serial number of System Mechanic 9 valid for a period of six months, the good thing is unlike majority of other promotional giveaways this one is offering the latest version of the software.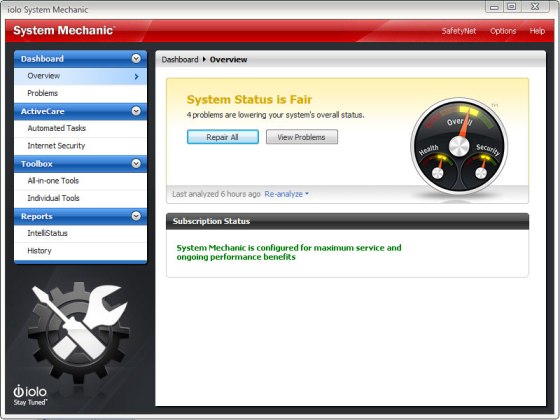 Submitted by admin on Mon, 02/09/2009 - 04:51
Popular Windows maintenance and system optimization utility suite Advanced WindowsCare Professional is now Advanced SystemCare and is available for free, the new avatar of the software suite completely replaces the old interface with a brand new smart and easy to use practical interface.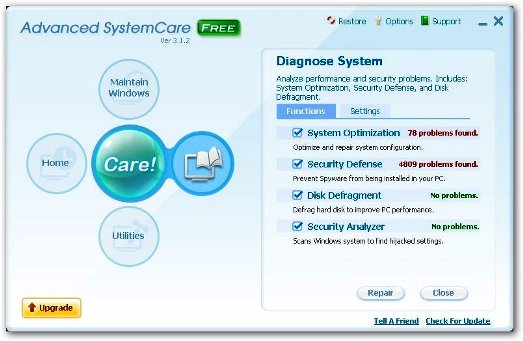 Advanced SystemCare Free makes use of the popular one-click system maintenance approach to repair, clean, protect and optimize your Windows PC providing better speed and reliability.
Submitted by admin on Wed, 11/26/2008 - 04:45

Latest version of the popular Windows PC optimization suite "TuneUp Utilities 2009" is now available for downloading, being one of the most comprehensive PC optimization application suite, TuneUp Utilities 2009 offers all the required tools you will ever need for Windows maintenance as an easy to use, single streamlined solution, the all new TuneUp Utilities 2009 makes use of an much improved intelligent optimization approach by analyzing individual PC configuration to tune-up the Windows system delivering the maximum performance.
Submitted by admin on Tue, 07/22/2008 - 09:30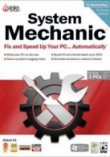 We have shared tips on receiving free full version legal license to two of the most popular PC optimization suites iolo System Mechanic 6 and Advanced WindowsCare Professional, Here is yet another chance to grab your very own personal free legal registration code for the latest version of System Mechanic 8.
System Mechanic 8 software suite consists of several windows optimization tools allowing users to automatically repair common PC errors, minimize file and registry fragmentation, cleaning out clutter, and tuning up their PC's so that it runs smoothly, reliably, and faster.