IObit
Submitted by admin on Fri, 05/20/2011 - 11:04

Newest version of popular PC cleaning, repairing, and optimization utility suite IOBit Advanced SystemCare 4 is out now, greatly improved from it's previous versions the free program allows users to fine-tune their computers for optimal performance. The new version features improved core engine and program structure delivering a much better, comprehensive and deeper system cleaning, repairing and optimization experience, that's not all this time IOBit has incorporated new security features into the application for protecting user PC's from more security threats and privacy compromises. Another worty mention would be the the enhanced "Turbo Boost" mode, which detects and shutdowns unnecessary background processes and services leaving more resources for faster computing experience when needed.
Submitted by admin on Fri, 02/18/2011 - 09:19

Every computer gamer wants to squeeze-out the last bit of computing power possible, and utilities like IOBit Game Booster 2 (Free version reviewed earlier) help them achieve there goal. Under a limited period promotion IObit is giving away Game Booster 2 Premium license worth $9.99 regularly for free during the entire week from Feb. 21 to Feb 27.
Game Booster 2 is designed as a "one-click-switch" to turn any PC into a "game machine" that provides a better and smoother gaming experience. It works by temporarily shutting down unnecessary background processes and services to concentrate the computer's resources on the gaming application being played. Afterwards, users can easily switch the PC back to normal operation, restarting all the shut-down processes and services. According to a recent user survey, 80% of gaming enthusiasts say their gaming experience is "remarkably improved" by Game Booster 2.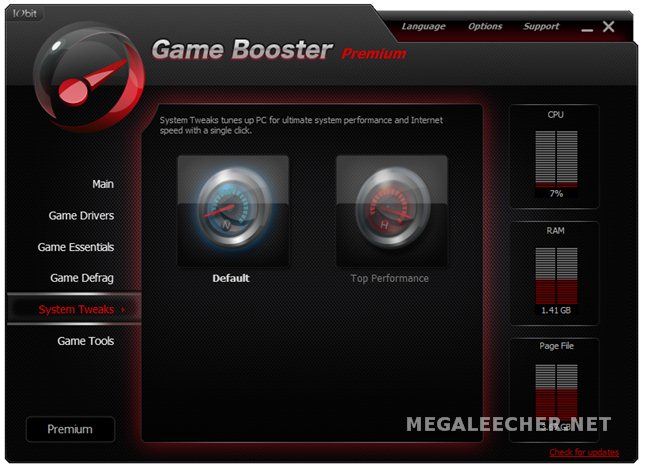 Submitted by admin on Tue, 01/18/2011 - 09:07
After offering some great utilities like IObit Toolbox, IOBit Advanced SystemCare, and IObit Game Booster we have yet another great looking software from the company as first public BETA of "IObit Malware Fighter" is now available for download.
Developed to be a complete and efficient solution to block, scan and remove malware's - the brand new anti-malware solution comes with an impressive feature set and a beautiful sleek user-interface, Complete feature review with images and videos available after the jump.
Submitted by admin on Mon, 11/01/2010 - 05:54
Keeping your PC perform at optimal level needs help of computer maintenance and optimization utilities, and if you are looking for one such professional utility our TuneUp Utilities 2011 free key giveaway is still open for participation.
IObit offers some great free PC tune-up software's like IObit Toolbox and IObit Advanced SystemCare, the company also offers another useful utility for PC optimization specially targeted at gamers. Named "IObit Game Booster 2" the free utility for windows help optimize PC for an overall smoother and more responsive game play. "Game Booster 2" achieves it's goal by updating hardware-drivers, downloading essential gaming tools, tweaking system settings, defragmenting game directories, temporarily shutting down background processes, cleaning RAM, and prioritizing processor performance.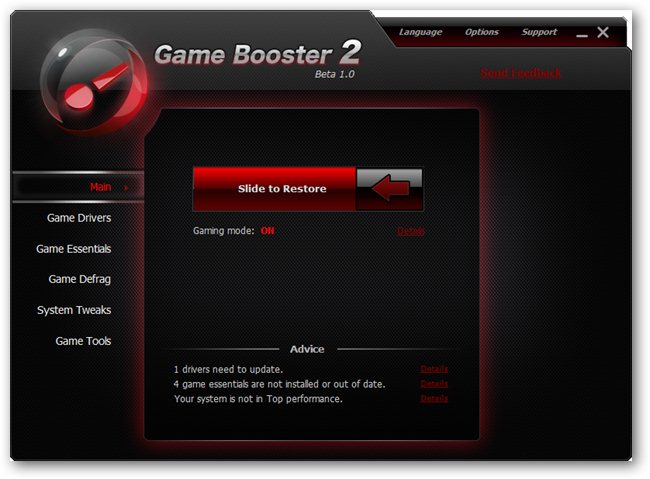 Submitted by admin on Sat, 08/14/2010 - 10:15
Thanks to quite a few free PC Information, Optimization and repair utility suites the user is now able to choose a suitable pack for their personal needs, and to further widen the existing offerings IObit has now came up with an excellent collection of 20 dedicated tools allowing users to fetch diagnostic information, enhance security, optimize performance and repair PC problems neatly packed as an free, portable toolbox named - "IObit Toolbox".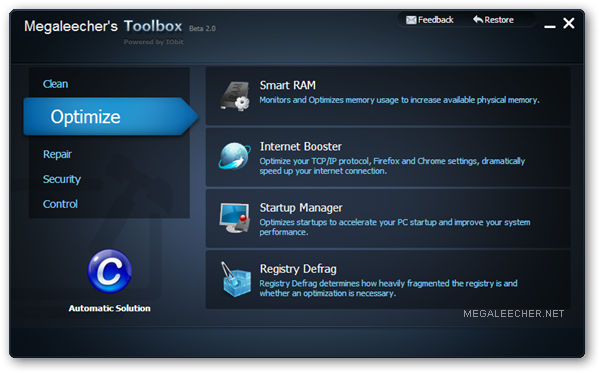 As the title says the great part is that you can customize the toolbox branding to have your own/company name and logo as shown in image above.
Submitted by admin on Mon, 02/09/2009 - 04:51
Popular Windows maintenance and system optimization utility suite Advanced WindowsCare Professional is now Advanced SystemCare and is available for free, the new avatar of the software suite completely replaces the old interface with a brand new smart and easy to use practical interface.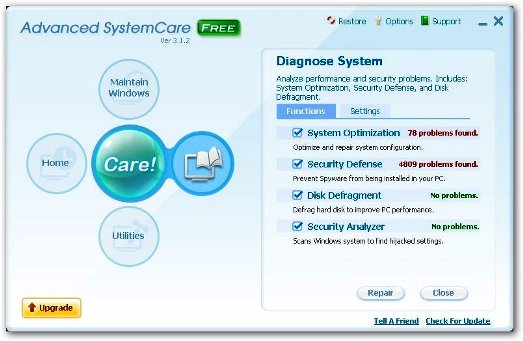 Advanced SystemCare Free makes use of the popular one-click system maintenance approach to repair, clean, protect and optimize your Windows PC providing better speed and reliability.