iPhone Security
Submitted by admin on Wed, 12/15/2010 - 10:24
While there are lots of advantages of jailbreaking your Apple iPhone/iPod/iPad, it also has disadvantages like an voided Apple warranty and introduction of some security loopholes. A new tool Antid0te is about to be released promising better security for jailbroken phones, what Antid0te will do is to add Address Space Layout Randomization (ASLR) to your iPhone. Which in simpler terms mean that iOS program libraries, the dynamic linker, the program stack and some selected binaries will be loaded at different (random) addresses in memory making the process of exploitation a lot harder.
Submitted by admin on Thu, 11/12/2009 - 04:52
As anticipated few months ago iPhone worm's and viruses have now started to appear in wild, Mac security software provider Intego Security has unveiled a new hacker-tool dubbed iPhone/Privacy.A which utilizes the default SSH password vulnerability in jailbroken iPhone's to gain access to iPhone's data enabling hackers to steal users email, contacts, SMS's, calendars, photos, music files, videos and virtually anything on users device.
Written in Python the iPhone hacking utility allows hackers access to victim devices from computer's running Windows, OSX/Unix and Linux allowing them to do anything with stolen data, to prevent yourself from this and similar threat's all you need to is to change the default SSH password on jailbroken iPhone's and iPod's following the simple how-to guide provided next.
Submitted by admin on Mon, 07/06/2009 - 06:06

Due to their small size mobile devices are very vulnerable to get stolen, but fear not there are many anti-theft utilities available for various mobile-phones letting you track and recover your stolen device similar to laptop theft-tracking utilities.
Luckily if you are using Apple iPhone you can not only track your device location but also remote control it, thanks to iLocalis - the best theft-tracking and remote control utility for Apple iPhone.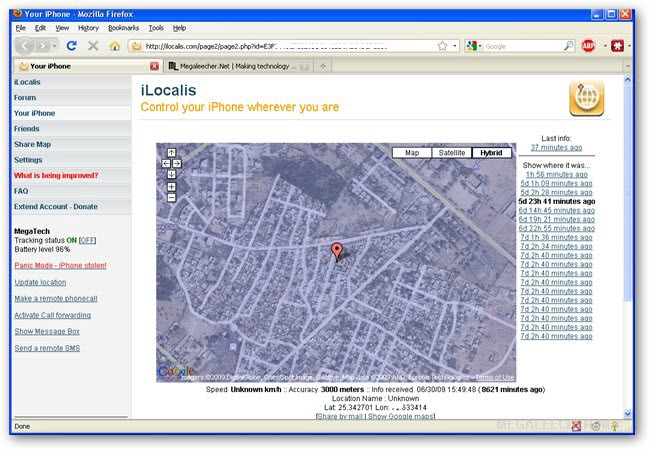 With iLocalis installed on your device you can keep track of device current location, share location with friends, remote control iPhone, create and restore remote backups, remotely wipe your device data, receive automatic SMS to a pre-configured number of choice if phone SIM is changed (for receiving thief's number and current location), prevent iTunes connection and restore when the iPhone is remotely locked, make remote phone calls and SMS, activate call forwarding remotely (comes very handy if you forget your iPhone and want to forward calls to another number).
Submitted by admin on Tue, 04/07/2009 - 05:11

You may soon need an anti-virus solution for your Apple iPhone and iPod Touch devices as there seem to be an increasing number of reports claiming virus and trojan outbreaks on jail-broken iPhones, almost an year ago iPhone Trojan named '113 prep' created quite a buzz being the first virus/Trojan for iPhone appearing onto the radar, now iPhone users are reporting strange message popups on there devices.
Despite this being suggested as an iPhone Virus or Trojan by some forum members I am very much sure that it is nothing more then a prank, but considering the current scenario of increasing number of jail-broken iPhones having ability to install unverified cracked applications this can soon lead to make malware creators target these devices.