For gamers and audiophiles, the Audeze Mobius Headphones are indeed an auditory paradise. The best premium headphones a gamer can purchase are the Mobius, and this peripheral got five out of five stars from us.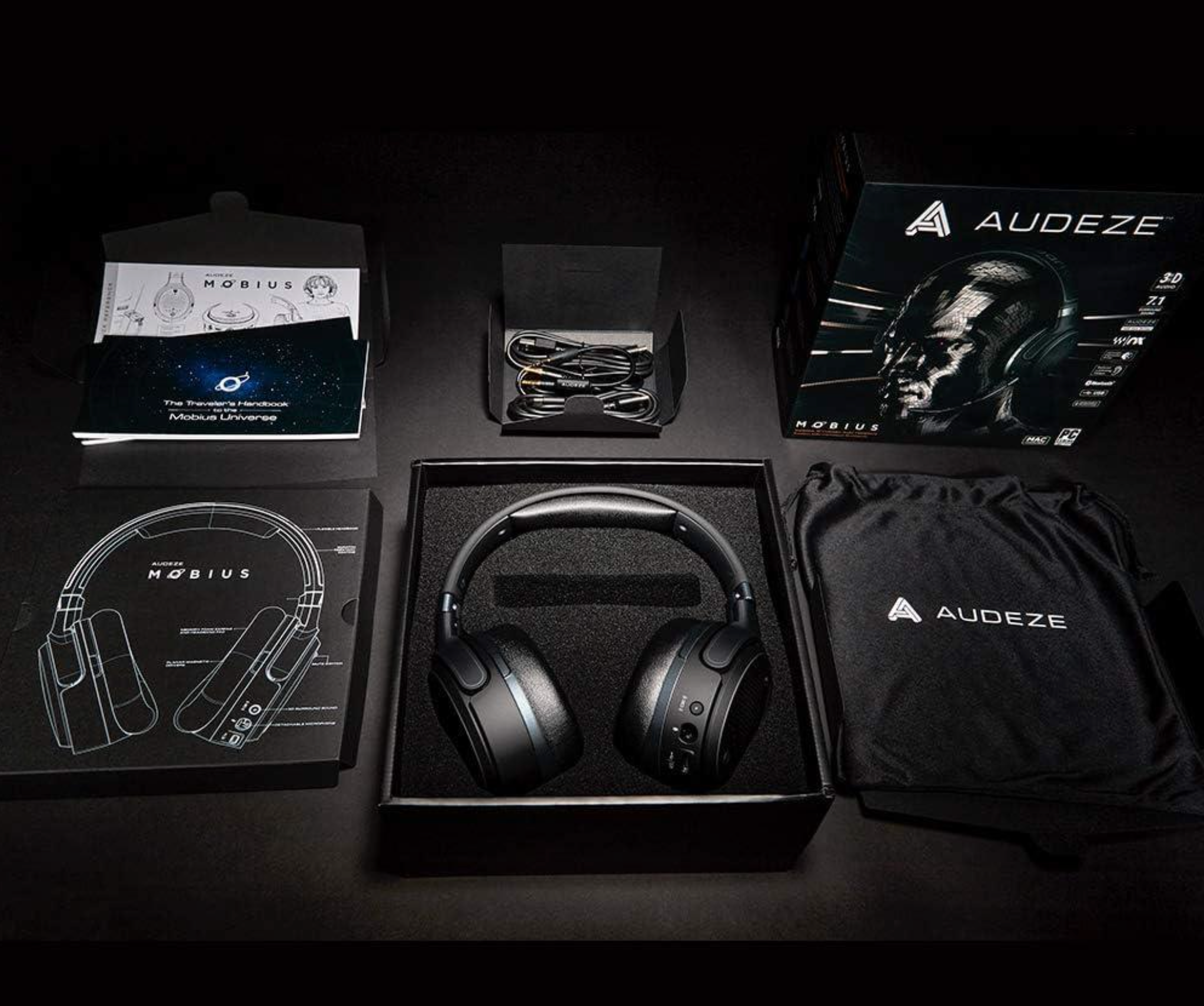 Photo: www.amazon.com
The fact that it's currently sold out, which is what you'll see when visiting the company's website (they used to cost $399), says enough in regard to the quality of these headphones. But, you can buy them on Amazon at a price of $289.97 (reduced from $299).
Intro on Audeze Mobius Headphones
With cutting-edge science and technology, Audeze specializes in creating precision audio devices that are unmatched in the industry. It's understandable why the gaming headset market was swiftly dominated by the Audeze Mobius Headphones. The intricacies of sound, from their ground-breaking planar magnet drivers to the anatomical calibration, will carry you to another world.
There are several high-end, fantastic-sounding gaming headsets available. However, whether playing games or listening to music, Mobius produces an almost surreal aural experience. Learn how Audeze configured the Audeze Mobius Headphones to become the best premium gaming headset available at the moment.
Audeze Mobius Headphones Packaging
Headphone
Movable microphone
Two types of USB cables (USB-C to USB-C and USB-A to USB-C)
Analog 3.5mm cable
Quick start guide
User manual and warranty
Travel bag
Audeze Mobius Headphones Specs
Planar magnetic speakers for cinematic audio of the highest caliber.
Full 3D emulation for common sound system modes (7.1/5.1) is supported over a connected USB.
Head tracking incorporated 1,000 times per second.
Using anatomy calibration, the sound is customized for the user.
Waves NX technology is integrated into Mobius for onboard, real-time 3D processing.
Wireless Bluetooth connectivity, AUX, and wired USB connections.
Discord certified; works with PC, mobile devices, Mac, and gaming consoles.
First Blush 
The Audeze Mobius Headphones have an adult appearance from the box to the product. The Mobius Headphones offer an elegant but straightforward design. Grey accents may be seen on the matte black frame. The grey Audeze typeface is printed on the black headband. The left earcup has Mobius on it, and the right earcup has a grey equalizer.
Mobius is relatively comfy and light. The soft foam cushion in the over-ear cups is removable and has a faux leather holster. The very same memory foam cushioning is used for the headband. Although some individuals would prefer earcups with a more breathable cover, our ears stayed cool even after playing games, listening to music for hours, or enjoying the crowd-like noise on the virtual football match we followed to see how our wager, which we placed at one of the best sports betting sites in 2023 at Bookmaker-Expert.com, on it develops.
The power, 3D buttons, and, in addition to the audio and mic volume knobs, are all located on the left earcup. The headphones are powered by three seconds of button holding. Double-tapping the power button switches between Bluetooth, USB, and Audio Jack after it has been turned on. Press the 3D button once to orient your headset for autonomous calibration while staring straight ahead. Toggle between 3D Auto and 3D Manual while in 3D mode by holding down the 3D button.
The microphone and audio volume dials on Mobius are distinct from one another. Hit the audio volume control while listening to music, then scroll down or up to move to the previous or next song. Toggle between equalizer presets by pressing the microphone wheel and then scrolling:
Default
Flat
Ballistics
Foot Steps
Racing
Music
Warm
RPG 
Microphone Check
The flexible detachable mic on the Audeze Mobius is flexible. My friends questioned us whether or not we had finally acquired a professional mic when we used Mobius for the first time on Discord. We could hear absolutely no background noise when listening to a tape of our voices.
Various Connection Options
Three connections are available for the Audeze Mobius: Bluetooth, 3D 8Channel, and a 3.5mm auxiliary jack. Additionally, they all have remarkable audio quality. Planar magnetic 100mm drivers are used by Mobius. To produce more precise sound, planar magnetic drivers employ a magnetic field.
Bluetooth
Although there is "some" audio quality reduction, Mobius still sounds fantastic when used with Bluetooth. According to the Audeze Mobius page, Bluetooth mode has a battery life of more than 10 hours. Mobius provided us with a battery life of 12 hours.
Despite the fact that sound quality is excellent, Bluetooth only allows for simultaneous listening to one source of audio. You won 't be able to use Discord or play music if you use Mobius while gaming and Bluetooth is on.
3D 8Channel
In-game audio is captured by Audeze Mobius in a way we've never heard before. Boasting Ambisonics and 3D audio support, Audeze's cutting-edge technology expands the boundaries of surround sound in digital audio.
3.5mm Auxiliary Jack
Despite being intended for PC use, the Mobius Headphones may be connected to a mobile device or gaming controller using a 3.5mm connector.
P.S.: Air being entrapped between your head and the diaphragm causes planar magnetic drivers to crinkle. As your head moves, this makes a crinkling sound. How can planar magnetic drivers be made to stop making crinkling noises? It's very easy. Just slowly and steadily insert the headphones to prevent air from becoming trapped.
Software Behind Audeze Mobius Headphones
The Mobius and Penrose Wireless Planar Magnetic Headsets can have their audio settings changed using the AudezeHQ Software. The keys and volume knobs on the ear cushions can be used in the same ways in AudezeHQ. The battery life of your headset can also be checked. Although it includes personalized audio profiles, we wish the audio could be more easily customized. All you have are the game audio settings which you can save to your profile.
Additionally, AudezeHQ has integrated head tracking and 3D sound localization, which are both visible through its 3D model. Although not really necessary, the software is fun to experiment with. In the future, Audeze should be able to offer additional customization.
Verdict
The Audeze Mobius was excellent. A truly enjoyable audio experience is produced by Mobius. We can honestly state that once you switch to Mobius, all other headsets pale in comparison. After using Mobius for a month and then trying out another, you'll see how much you'll miss Audeze Mobius Headphones. They are a must-have if you enjoy playing video games and are an audiophile.