Free mass file-mirroring service's like RapidSpread and UploadJockey are quite popular these days, but here is something which beats these services hands down - Zoom's File & Image Uploader is a free utility which takes the pain out of creating mass file and image mirror's to more then 70 file and image hosting services including mass-mirror services like RapidSpread and UploadJockey.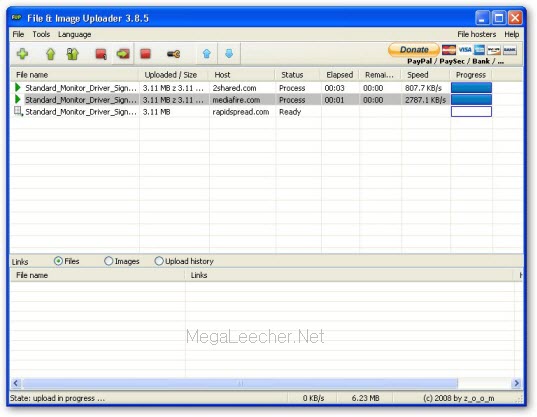 The portable utility features a fully functional drag-n-drop interface with ability to use premium accounts with parallel uploading support, the only thing missing is the handy Windows context-menu integration for fast access, this should be expected in upcoming releases.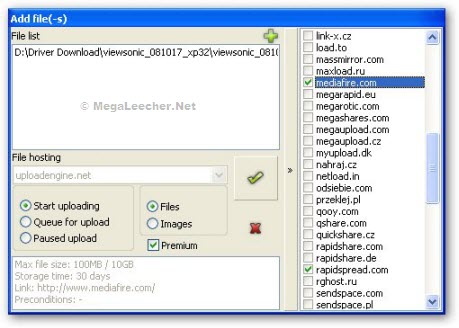 Zoom's File & Image Uploader is the most comprehensive utility of its kind supporting a total of 70 file hosting servers, including - 2shared.Com, Badongo.Com, Bagruj.Cz (+Premium), Czshare.Com (+Premium), Dataup.De, Depositfiles.Com (+Premium), Easy-Share.Com, Edisk.Cz, Fast-Load.Net, Filedropper.Com, Filefactory.Com (+Premium), Filefront.Com, Files.To, Flyshare.Cz, Flyupload.Com, Freakshare.Net, Hellshare.Com (+Premium), Iskladka.Cz, Leteckaposta.Cz, Letitbit.Net, Link-X.Cz, Load.To, Mediafire.Com, Megarotic.Com, Megashares.Com (+Premium), Megaupload.Com (+Premium), Megaupload.Cz, Myupload.Dk, Nahraj.Cz, Netload.In (+Premium), Quickshare.Cz (+Premium), Rapidshare.Com (+Premium), Rapidshare.De, Rghost.Ru, Sendspace.Com, Share.Neobycejne.Eu (+Premium), Sharebase.De, Share-Rapid.Com, Subory.Sk, Turboshare.De, Uloz.To (+Premium), Ulozisko.Sk, Uploadbigfiles.Net, Uploaded.To (+Premium), Uploadshare.Cz, Uploadstube.De, Upnito.Sk (+Premium), Vip-File.Com, Web-Share.Net, Yabadaba.Ru, Zdielanie.Sk (+Premium), Zippyshare.Com, Zshare.Net, like - Bayimg.Com, Bronsongirls.Com, Freemega.Net, Funkyimg.Com, Imageboo.Com, Imagefap.Com, Imageflux.Com, Imagerise.Com, Imageshack.Us (+Premium), Imagevenue.Com, Imghost.Sk, Imagehosting.Mafyje.Com, Imgup.Eu, Maxupload.Com, Mobilexplore.Com, Pic.Leech.It, Pixhost.Org, Pornimghosting.Com, Redimagehost.Com, Stooorage.Com, Tinypic.Com (+Premium) and like - Rapidspread.Com, Sharebee.Com, Uploadjockey.Com, Asapload.Com, Massmirror.Com and Maxload.Ru .
I have scanned the current version downloaded from the author website using Multi-Engine anti-virus scanner and it came cleaned.