Filmora, software that primarily allows you to edit different videos in the easiest ways as possible. The application is mainly designed in order to give the users wide range of great opportunities when it comes to editing videos that they have personally shot. With more than three hundred different opportunities to explore, Filmora is considered as among the best video editor software programs for those who are just new to video editing.
This new and improved video editing software Filmora provides the users the ability to get a more professional level result with only minimal effort. It looks just as beautiful and amazing as it performs. The great thing about this video editing software is that it is compatible with all the popular image, audio, and video formats. With this, users can now add any media to their own project. Once the users already have the elements they want to utilize imported right into the video editing program, it is just a very simple matter of dragging them into and at the same time arranging them in the timeline. That is relatively very simple affair in this kind of application.
• Text and titles
Using this video editing software, you can now create beautiful animated messages from your own texts and titles library.
• Music library
You can now add your own favorite music directly into your movie in order to create perfect atmosphere as easy as one-two-three.
• Overlays and filters
This video editing software has its own specifically designed filters and overlays to give you a professional finish. Through this, expect that you can conveniently and amazingly transform a movie into something that is even more spectacular more than what you have ever imagined.
• Elements
If you are having a hard time finding the best video editing software that will take your own video into the next level, worry no more, because Filmora will give you more than what you need. This can be achieved by means of adding impressive Still and Motion Graphics.
• Unique visual effects
You have the freedom to incorporate over 100 visual effects (including PIP, Green Screen, Mosaic, Tilt-shit, Split Screen, etc.). With this in mind, you will no longer have to worry because you will surely get what your desired result is, which in turn will satisfy you the most. With just minimal effort, you can definitely transform your home video into more spectacular one using Filmora- the best video editing software.
• Speed control
Filmora has its own Slow motion and time lapse support. With this, you can control the pace of your own clips in order for you to create beautifully sped up time-lapse or even fabulous slow-motion effect.
Let us take a closer look at Filmora for you to know why it is considered as an excellent product and is really worth your own money.
Unlike any other video editing software programs that you can find in the market there is a need to spend a little bit more time in order to get used to it, but with Filmora, you can edit your own video in just a very short learning curve. Filmora has wide array of amazing effects for you to choose from that match any video of your own choice. Aside from that, you can also utilize it in order to make your setting even more colorful and more pleasing to the eyes. You can also utilize it to create darker mood if that is what you want. But whatever your decision is, expect that the result that you will get is much more amazing and there are no other video editing software programs that reach Filmora's level.
Wait, there is more.
With Filmora, editing is done smoothly, which in the first place people fail to notice that their video has actually been edited in any possible way. Filmora is indeed a great tool that you can utilize in order to create astounding videos of any quality and length. Another great thing about this video editing software is its own worth noting software application's interface. With purple and black background, discreet graphics and buttons, well indicated functions, the application itself has made very easy to navigate around.
Not only that, with Filmora, importing videos coming from HD/SD sources works just as amazing as any other. Users can easily edit any kind of video from lowest to highest of the quality with ease and convenience, and this is made even better because this fantastic video editing software lets the users to export them in different options depending on what the users' preferences are.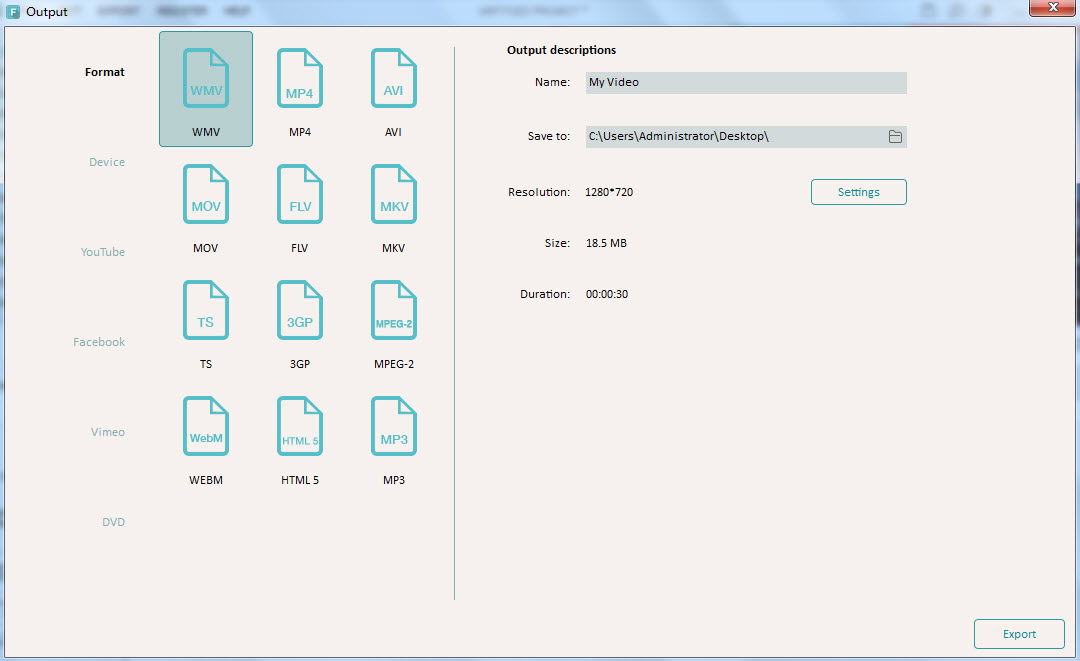 In general, based on the users' feedback about this software, it is clear that Filmora has been enjoying the attention of many and has been successful at today's market. This success is justified as this video editing software mainly provides great deal of amazing features that users can explore, thus allow them to edit their own videos the most professional ways.
So, if you are in need of professional, convenient, and easy to navigate around video editing software, expect that Filmora has always something to offer. Aside from providing with wide array of excellent features, this video editing software is also notable for its inexpensive and reasonable price. If you are having a hard time finding the best product that will cater what your needs are, worry no more, because Filmora will give you more than what you need. This software will let you do great deal of changes to your video without making it very obvious. This product is indeed a wise choice.
To sum it up, Filmora can be described in one word, "simple". It is an intuitive and straightforward experience that even inexperienced editors can utilize to create a very compelling project. It is a little light on the advanced features, but users who do not need all bells and whistles that are found in any other video editing software programs can definitely forgive that.