Have you ever been in a situation where you accidentally delete or lose important data from your pen drive or any other external drive? Often, such situations occur and not having a complete data backup may induce heavy loss.
If you are wondering how to avoid the data loss situation or how to recover the lost or deleted data, then you are in the right place. If you are stuck with no hope to recover, we tell you Yodot is the cure! Yodot File Recovery is the best software to retrieve deleted or missing files and folders from external drives or hard drive. It is but the best and the most effective way of recovery.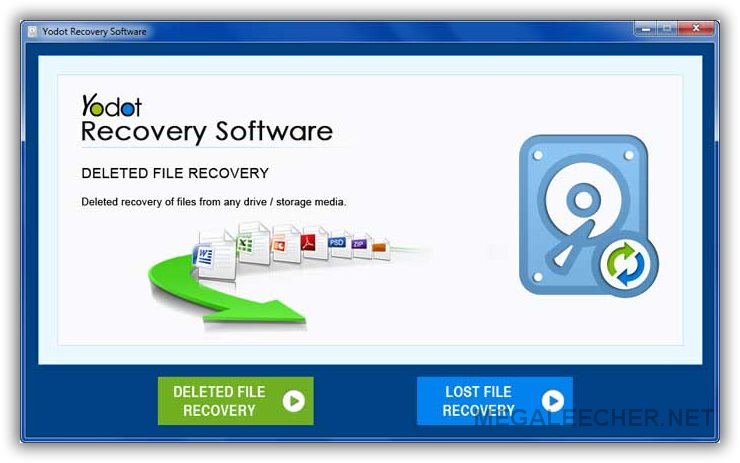 Yodot file recovery software for Windows has gained trust and recognition across the globe. It offers a great platform for both technical and non-technical users such that they can easily recover files with a sense of simplicity. The combined efforts of the technical team, proficient developers, researchers, tech experts, and support team have let the Yodot utilities to spread widely. Yodot's customer support team actively responds to all user-queries 24/7 and provides the best solutions.

No matter how you lost the data, whether it was a system crash, system error, hardware failure, accidental deletion, virus invasion, software failure, water damage, sudden power cut, natural disaster or any other factor, it brings heavy loss if it cannot be retrieved. Some of the major reasons that lead to data loss scenarios are-

• Accidentally deleted files and folders from hard drive, USB drive, iPod, memory card or any other external drive.
• Mistakenly emptied the recycle bin.
• Formatted the storage drive.
• Formatted or deleted the wrong partition.

• Re-partitioning.
• Resizing, creation or deletion of a partition.

• Conversion of the file system from FAT to NTFS or vice-versa

• Virus infection.
• Indecent system shutdowns.
• Abrupt power spike that causes frequent system restarts.
Yodot File Recovery is the best solution to retrieve the data that was lost accidentally.
Following are the reasons why you should prefer this software-
• It recovers data not only from hard drives but also from all other external drives.
• It offers a handy file undelete tool that is suitable for all types of users.
• Recovery from not only hard drives but also from all other external drives.
• It discovers and automatically calculates the file size of more than 300 different file types in case there is a need to recover raw data from a drive having severe file system corruption.
• The software enables you to toggle between different views in order to recover data smoothly.
• It blocks storage of retrieved data to the source drive to prevent overwriting and copies it to the destination of your choice.
Continue reading to find out how the software works.
Yodot File Recovery is the simplest, easiest, and the most effective way to retrieve missing and deleted files. Follow the steps below to retrieve the files-
Step 1: Download the free trial edition of the software and install it on your laptop or PC.
Step 2: Follow the instructions to complete the recovery process.
Step 3: Permit the software to scan the drive from where the files are to be recovered.
Step 4: Select the viewing pattern of the recovered data that you want to recover.
Step 5: Click on the 'Preview' button to make sure that the right file has been retrieved.
Step 6: Select the drive where you want to store the retrieved data. However, it is to be noted that source drive shouldn't be selected otherwise the data will be permanently deleted.
There are numerous features that make the software the best choice for recovering the deleted files. Some of the significant features are-
• Instant Recovery
The software performs restoration of even the large set of files within a small fraction of time.
• RAW Search
To lookup for a file of a particular type, you simply have to mention the file type. For example- *.docx in the RAW search box on the top section of the recovery window. This reduces the total time required for scanning.
• Preview
Recovered files are classified under Data View or File Type View. Here, you can review and validate whether right files have been extracted or not.
• Safety
It is safe to run this tool on any computer. It causes no damage to any part of files or system data. Also, the files are restored with the actual format, without any modifications to any part of it.
• Tech-support
For any product related queries, the Yodot technical team is always available. You can also have a live chat with Customer Representatives for any sort of technical assistance.
The Yodot File Recovery software supports all basic types of file formats on Windows.
• Documents and Spreadsheets
DOC, DOCX, XLS, XLSX, SXM, SXC, HTML, HTM, VSD, TXT, VOR, SDW, SDF, STW, SXW, XLB, WP, WKS, WK4, WK3, WK1, TV4, PPT, PPTX, PDF, RTF, CHM, SXD, STC, STI, SXI, CSV, SDC, XLT, DIF, MNY, AMI
• Picture
QFX, PSP, PIC, PCX, PCD, PBM, EPS, EMF, DWG, DRW, DCX, CPT, JPG, JPEG, PNG, GIF, BMP, WPG, WMF, TGA, SID, QTM, ART, AMFF, 3DMF
• Music and Video
ASF, ASX, MIDI, M3D, RAM, WMA, WMV, MPG, AVS, AMR, OGG, AU
• Email
DBX, DCI, PST, EML
• Archives
ARJ, ZOO, RPM, ZIP, RAR, CAB, JAR, SIT
• Database
MDB
• Animation
FLV, FLC, SWF, ANI
• Application
PKR, SKR, AVB

Supported Operating Systems
Windows 10, Windows 8.1, Windows 8, Windows 7, Windows Vista, Windows XP, Windows Server 2003 and 2008

• Memory – Minimum 1 GB RAM
• Disk Space – 50 MB for installation
• System Type – 32bit or 64bit OS

FAT16, FAT32, NTFS, NTFS5, exFAT, ReFS