Asus O!Play is a popular digital multimedia player allowing users to enjoy local, networked and internet multimedia content in full-hd quality supporting a wide range of formats. The player has two models Asus O!Play HDP-R1 and Asus O!Play Air with the only difference being the "Air" model having WiFi connectivity option.
Interestingly all a user needs to do is to hack the device firmware on HDP-R1 model, to use cheaply available common WiFi USB dongles out there enabling WiFi functionality similar to O!Play Air model at much cheaper price.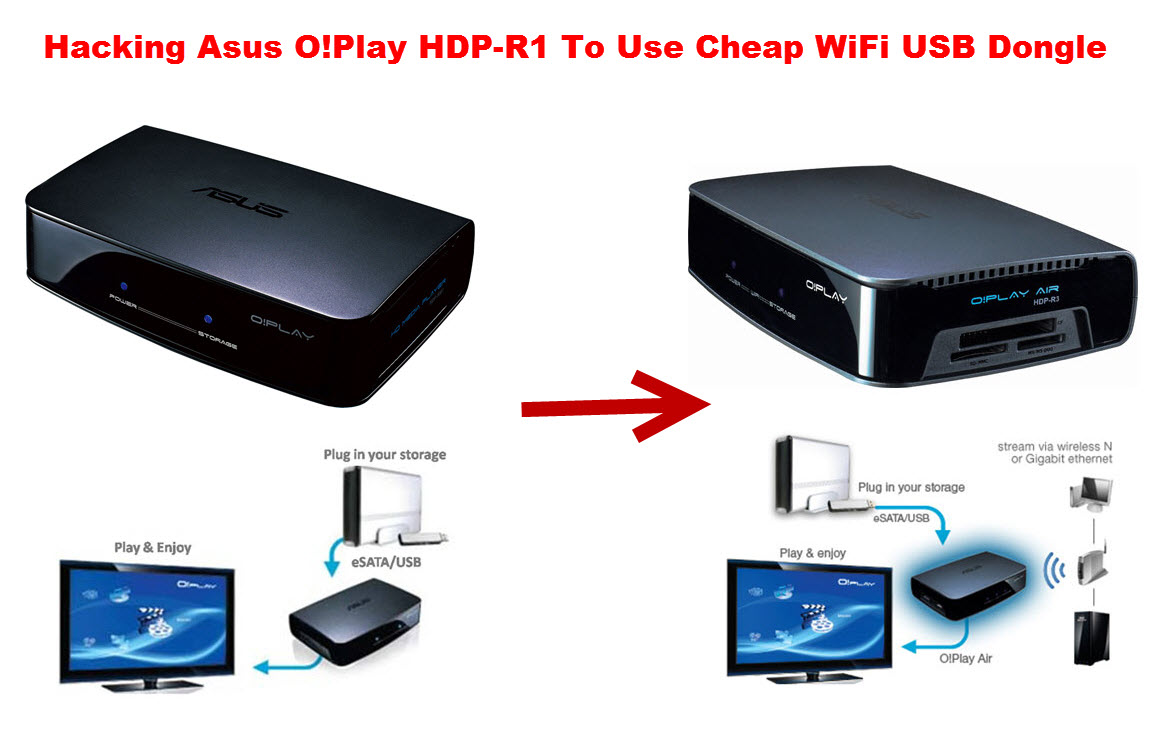 Basically, we will be flashing the O!Play Air (HDP-R3) firmware to HDP-R1 model so it is able to detect the connected WiFi adapter.
Although, I had personally tested this there are chances if something goes wrong you will have an bricked unit. This will also most probably void your warranty so proceed at your own risk.
Goto Asus O!Play support website and download latest firmware for both HDP-R1 and HDP-R3 (Air) model, make sure you save them separately and the firmware corresponds to your TV system (PAL or NTSC).
Read firmware upgrade instructions and save both downloaded upgrade files to two different USB drives (one can work but two are better).
Insert usb-drive with HDP-R1 firmware into O!Play's USB slot.
Connect the Media Player to your TV and then turn on the Media Player.
Press the Setup button on the Remote controller and the setup screen will be displayed.
Click on the System item and press OK. Then navigate to the System update and press
OK to start updating. (System Reinstall )
Right after you confirmation, the screen will go black and blue LED gets red on device, at this exact moment unplug the power from your O!Play.

Now, switch the USB flash drive with the HDP-R3 (Air) firmware and power-on O!Play.
The upgrade should now proceed with R3 firmware.

Once, upgraded Asus O!Play will reboot and following screens will be shown.

If you check the firmware version now, it will show the Air firmware version.

If we go to network tab, it will now have an Wireless networking option.

This option is dimmed, as we have not plugged in an compatible WiFi adapter.
Follow this link or buy any compatible cheap USB WiFi dongle (Realtek 8191 Chipset based) and you should be ready to go wireless.
I am awaiting shipment for my order of Realtek 8191 Chipset based "300Mbps USB Wireless Adapter" to test things out, I will be posting an update as soon as possible.
I finally received my Realtek 8191 Chipset based "802.11n/g/b 300M Wireless WiFi USB 2.0 Adapter from Aliexpress (cheapest directly from China with free worldwide shipping)
and it worked without an issue - as simple as plug-n-play.