Mouse Cursors in Windows are of Limited Size and are normally developed by Graphics Designers. Now the Big Mouse Cursor Utility allows you to design your own Mouse Cursor with ease. With the help of any Graphics Editor, you can design your own Mouse Cursor which will follow your existing Mouse Cursor. All you need to do is create a .bmp file and tell the Daanav Mouse Cursor about the location of the .bmp file. Have a look at the given below screenshot which displays the main screen of the software.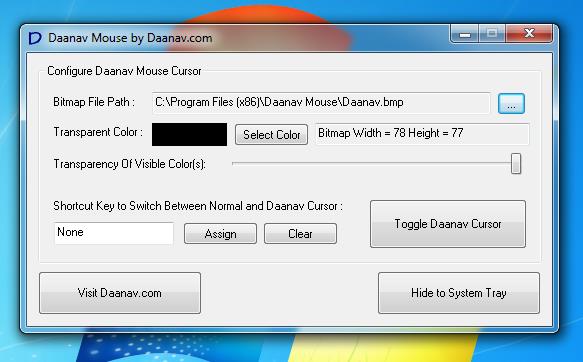 Have a close look at the main screen of the software which is the only screen in the software. There is a default bitmap file provided by the software setup which displays a red colored round circle around existing mouse cursor as displayed in the figure below.
The Bitmap file for the above extra circle around the mouse cursor is basically a black colored bitmap file with a red colored circle drawn on it. The bitmap file responsible for creating an extra mouse cursor as displayed above is as given in the screenshot below. There is no limitation in the size of bitmap which you can create.

Having an extra Mouse cursor can be handy in many ways like while doing a presentation, assisting someone with little computer knowledge or in any other scenario where distance between the viewer and the monitor is too much or even in cases when you want to emphasize or teach something to single or a group of people.
The Daanav Mouse is distributed packed in a setup file whose size is around 311 KB and is totally a free software. There are no nagging pop up reminders to buy the software and whether you are using Windows XP or Windows 8, this Big Mouse Cursor Software can be of real help in many ways. Download the Freeware Windows Application from Daanav Big Mouse Cursor Home Page and use your creative skills to create an extra Mouse Cursor as you want it to be.