An electronic signature (eSignature) is an digital equivalent of a paper signature and is legally valid for many forms and agreements like US federal and state tax returns, now Adobe has came up with a new free online PDF signing service dubbed ADOBE eSIGNATURES allowing users to sign PDF documents online for free.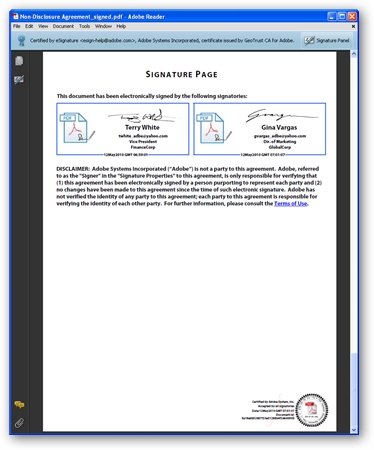 Documents signed using eSignatures are certified by Adobe to ensure that no one has modified them. When opening a electronically-signed document in Adobe Reader or Adobe Acrobat Professional it will show a blue ribbon to indicate that the PDF file has not been modified.
Legal Validity - Electronic signatures have become increasingly common, since the ESign Act was signed into law by President Clinton in 2000. Most Americans now electronically sign their federal and state tax returns. If you have signed up for a bank account online or accepted a software license agreement when installing software, you have most likely used an electronic signature. Adobe eSignatures complies with both the ESign Act of 2000 and the Uniform Electronic Transactions Act (UETA).
Trustworthiness - Adobe has been helping customers go paperless since our founding over 25 years ago. Adobe technology has been present in almost every milestone for digital signatures, since we started supporting them in 1999. Hundreds of customers in financial services, insurance, health care, pharmaceuticals, government, and other major enterprises rely on Adobe products and technology to get documents signed faster using electronic and digital signatures. The first digitally signed judicial order was executed using Adobe technology and the FY 2011 US Federal Budget was electronically certified using the same technology that underlies Adobe eSignatures.
Integrity - With paper documents, often only the last page of the document is signed. Other pages of the document can easily be replaced. Unlike paper documents, when a document is executed using Adobe eSignatures, it is certified to provide additional assurance that the document has not changed since it was signed: you'll see a blue ribbon at the top of the screen. If someone modifies a document after it has been signed, Adobe Reader & Acrobat will detect that something has changed and the blue ribbon will not appear.
Using Adobe eSignature is very easy as shown below :