As expected GTA IV : PC version is now released, and as usual untouched CLONE-DVD images of the original game got leaked on BitTorrent portals, thousands of users are now in the leeching queue to download the game, However, no working crack or activation hack seem to exist now for using the pirated copies of the game.
Released as two massively sized DVD's totaling 13.85 GB, GTA IV for PC is protected by SecuROM DRM.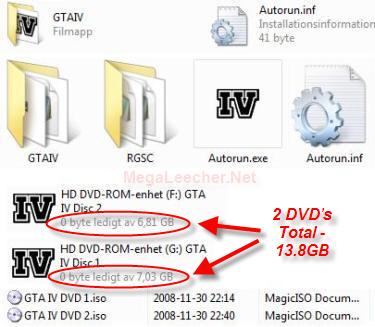 According to reports on various forums, users downloading the leaked DVD images from Torrent portals and file-sharing networks like Rapidshare and Megaupload are able to install the game but unable to activate online, and play without a working crack or activation hack as of now, cracker groups like RELOADED have cracked SecuROM protection earlier and GTA IV PC game downloaders are waiting for cracker groups to release cracks and NO DVD hacks for one of the most anticipated PC games of all time, fake cracks and online activation hacks have also started appearing on file-sharing network likes Rapidshare with intention of collecting Rapidshare Points and spreading malware.
OS: Windows Vista - Service Pack 1 /XP - Service Pack 3
Processor: Intel Core Duo 1.8Ghz, AMD Athlon X2 64 2.4Ghz
Memory: 1.5GB Vista / 1GB XP,
REQUIRED SPACE: 16GB Free Hard Drive Space
Video Card: 256 NVIDIA 7900 / 257MB ATI X1900
OS: Windows Vista - Service Pack 1 /XP - Service Pack 3
Processor: Intel Core 2 Dual 2.4Ghz AMD Phenom X3 2.1 Ghz
Memory: 2.5GB Vista / 2.5GB XP,
REQUIRED SPACE: 18 GB Free Hard Drive Space
Video Card: 512MB NVIDIA 8600 / 512MB ATI 3870