ESET NOD32 impacted the Windows anti-virus software business heavily when their fast and light-weight solution became an instant hit amongst users, eventually forcing other companies to cut their software-bloat to remain competitive. ESET has now announced first public beta of their "NOD32 Antivirus 5" and "Smart Security 5", featuring new improvements like all new Cloud-Powered Reputation system, Optimized Startup Procedure, Enhanced removable media control, new refreshing Graphic User Interface and new Gamer Mode.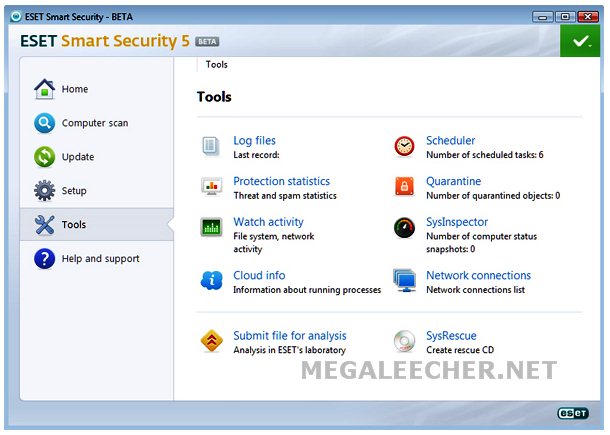 Enhanced Media Control — Blocks threats trying to get through to the system via removable media. ESET Smart Security 5 and ESET NOD32 Antivirus 5 automatically prompt users to scan the content of all USB flash drives, CDs and DVDs. Users can block specific media based on a range of parameters like the device ID, media type, and serial number.
ESET Cloud-Powered Reputation — Enhanced detection power and scanning speed using advanced reputation service and ESET malware collection and analysis.
Optimized Startup Procedure — ESET Smart Security 5 and ESET NOD32 Antivirus 5 let users start working on computer immediately after boot-up, without compromising security.
Gamer Mode — When in full-screen mode, ESET Smart Security 5 and ESET NOD32 Antivirus 5 automatically switch to silent mode to save system resources, so users can enjoy playing computer games or concentrate on important work tasks without distractions from pop-up messages.
Improved Graphic User Interface — The graphical environment has undergone a number of usability and design modifications aiming to enhance the overall user experience.





Parental Control - Blocks sites that may contain potentially offensive material. In addition, parents can prohibit access to up to 20 pre-defined website categories.
Improved Antispam - Antispam module integrated into ESET Smart Security has undergone a thorough optimization process for an even higher level of detection precision.
Intelligent Firewall - Prevents unauthorized users from accessing your computer remotely and monitoring your network traffic.