It happens many times that you have a PDF file which you need to share with your colleague or friend but it needs some sort of editing. For example, you want to remove some pages or images before you actually share it. No doubt, you need to spend some time on editing if you use general editing tools and commands. However, such editing can be done quickly through PDF Eraser, which is indeed a simple and useful tool that adds utmost comfort into your life. You would be able to quickly erase unwanted text and images with the mean of it.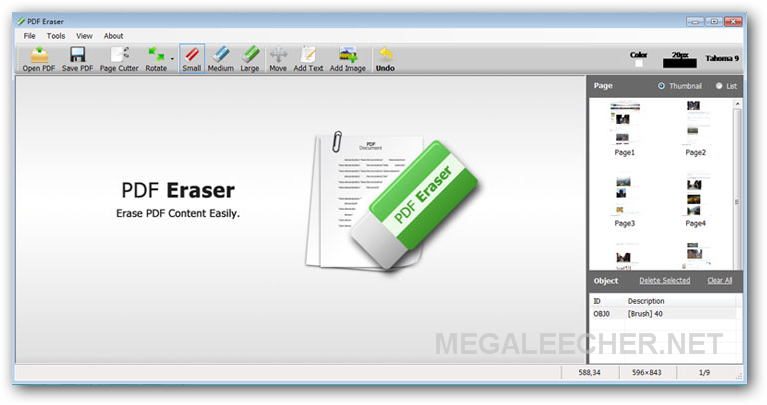 Here are four main features that make this tool very appealing for PDF document user.
Erasing: Basically, this tool is designed for erasing unnecessary lines, text, logo, phone number, etc from a PDF file. You are able to erase unwanted things from your file and get a new edited file, if you use this tool.
Addition: Sometimes, you are in hurry and want to add some extra lines or images into your PDF file at a specific place. In this situation, this tool lets you to quickly type your words and then add them to your specified location in the file. You can also add new images to file via it.
Page Rotation: Do you want to correct the orientation of different pages of your PDF file? It is also made possible through PDF eraser. When you have this tool, you are able to rotate as many pages as you want and this rotation will be completed within a matter of seconds.
Page Cutting: While reading your file, you come to know that some pages are not required or they are simply useless. You surely want to remove these pages for making your file more compact and appealing. In this situation, this tool gives you a chance to use the built-in PDF cutter and start cutting as many pages as you want. Good thing is that you don't need to cut every page separately. There is only a need to select all unwanted pages and then cut them collectively.
A user of PDF document knows very well that deleting an image is indeed a tricky task since you need to follow three to four steps for removing an image. However, when you have this tool, it will work as an image editor for you. You need to select this tool, click and drag it over image and then delete the image. This deletion process will take only a few seconds.
Do you want to overwrite some parts of an image? It is also made possible through this tool that serves you as a paint tool. User is able to change background color or color contrasts of images whenever he wants. Commendably, image editing in PDF wasn't so easy before this tool.
Want to quickly add/remove text and image in your PDF files? Go and give a try to this easy-to-use tool.