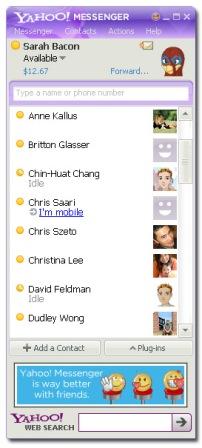 Yahoo! released the latest beta of their upcoming messenger update to version 9, featuring a completely new user interface with skinning capability and quite a few interesting new feature additions.
New look for contact list with detail view to see larger Avatar images of your friends or the compact list view also allowing to just hover and click to IM, SMS or call a friend.
Brand new skins and emoticons! Click the dot near the top of your Messenger window to choose a skin, and check the emoticon menu for the new ones that were inspired by user entries in our Emoticon test earlier this year (more on our winners in a future post).
New Flickr integration in the photo sharing feature. Easily share photos from your Flickr.com account, or save photos shared with you directly to Flickr.
A new in-line media player that makes it easy to view maps, photos and videos from sites like Yahoo! Video and YouTube right in the IM window. No plug-ins needed, no extra downloads — it's built right in. Just send a video, map or photo link to another friend who's also on 9.0 to try it out.
New features for voice calls. You can have your incoming Phone In or free PC calls forwarded to another number like your mobile, home or office phone, even if you're signed out of Messenger (Phone Out account required). Plus there's a new way to get voicemail. When someone leaves you a voicemail in Messenger, an email is sent to you with an MP3 of the voice message attached.
This new version of messenger might crash while starting up as reported by many users, specially the crash related to nspr4.dll, as in error message specified below.
Appname: yahoomessenger.exe AppVer: 9.0.0.797
Modname: nspr4.dll ModVer: 4.6.5.0 Offset: 00004944
-Can't use alias IDs in chat room (I cannot confirm this since alias IDs work for me in the chat rooms).
-"Ignore Anyone Not On Friends List" still causes you to see no text from a chatroom when enabled.
-No option to toggle between nicknames and Yahoo IDs (Yahoo! Messenger v8.1 and below has this).
-Missing vital LaunchCAST options in Yahoo! Messenger's preferences.
-The WordFilter bug is still not fixed. Yahoo! Messenger only reads the global registry key, instead of the per account WordFilter key.
-The chat room taskbar icon when minimized doesn't flash on new message arrival (hasn't since Yahoo! Messenger v7.0).
-Crash on startup (nspr4.dll crash).
-Crashes on shutdown half of the time (for some users).
Confirmed Annoyances:
-No option to use a default skin (or change skins to something different).
-Inability to toggle between nicknames and IDs. Workaround is to edit all your contacts and remove their contact information (also considered an issue).
-Call history is always displayed when you log in
-Can't get rid of the mail alert attached to the messenger window.
-Can't force Yahoo! Messenger to only display your display picture only. The old style was best.
-Inability to turn off the chat room word filter and make it stay off (also considered an issue).
Download Yahoo Messenger Full - Direct Download (Size : 12.7 MB) - Recommended >>

Download Web based Installer (Size : 407. KB Will Download Full Installer via setup)