Proper monitoring and reporting is necessary for hard-disks containing crucial data and to achieve this most modern hard-disk drives come equipped with S.M.A.R.T. (Self-Monitoring Analysis and Reporting Technology) feature to analyze, report and even repair disk errors which can result into drive failure and data loss, O&O DriveLED 2 is an professional Windows utility to retrieve and display this crucial S.M.A.R.T. data from disk-drives alerting you in advance of any potential hardware malfunction.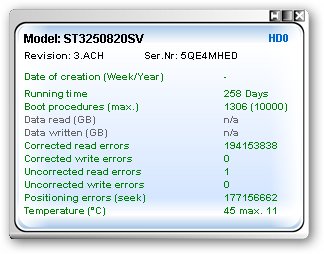 O&O DriveLED 2 costs $16.76 to buy but you can grab a genuine licensed copy following the simple procedure ahead.
Steps to get O&O DriveLED 2 free registration key:
Visit - http://www.oo-software.com/home/en/special/driveled/ and register using your information.
You will receive your personal license key on registered email.
Download O&O DriveLED 2 from here.
Install the software and use key provided in registration email for full-version.
If the above offer expires there exist many free utilities to retrieve and display S.M.A.R.T. data here is a short list of some popular ones for Windows OS: