Easter is looming around the corner. Kids are busy preparing carrots, wishing Easter Bunny will hop to their houses with its magic basket full of amazing eggs, chocolates, candies, etc on Easter morning. What about other people? Well, this year Bunny additionally crams MacXDVD 2013 Easter Giveaway of first-rate MacX Video Converter Pro into its basket to cater to the needs of customers who'd like to enrich holiday entertainments in the uplifting time of year. Particularly, this Easter deal is only eligible from now to April 7, 2013, during which all customers are welcomed to get full licensed MacX Video Converter Pro for free of no limitation. This is really a once in a blue moon if you are eager to experience a more entertaining digital life with portable media devices in hands.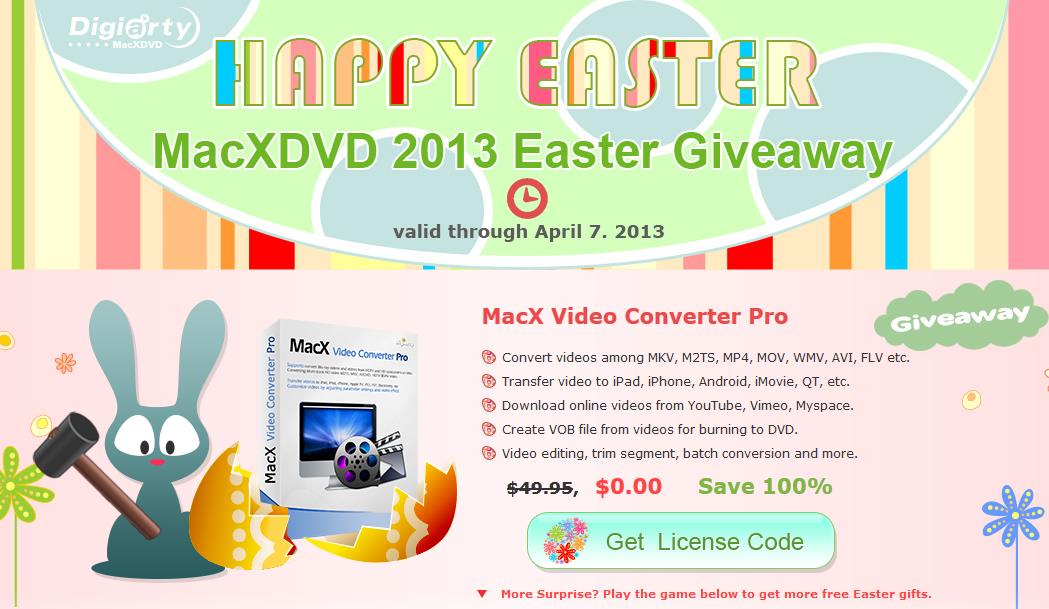 To have better digital enjoyment during the Easter promotion, never waste such a golden chance and get this Mac video converter right now at: http://www.macxdvd.com/giveaway/2013-easter.htm
MacX Video Converter Pro is the highest-ranked video converting software, helping Mac users handle pretty much everything they throw at it impeccably. Whether you are feeling like to download YouTube video, convert video from one format to another or play videos on your favorite video-playing handheld device, this Mac video converter makes it happen in a few clicks of no-brainer, all attributing to its awe-inspiring feature set and intuitive interface.
In addition to the ability to convert among HD and SD videos like MP4, FLV, MPEG, MKV, WMV, AVI, etc and transfer video to a format tailored to portable devices like iPhone, iPad, iPod, Samsung, HTC, and more, this gorgeous Easter gift also delights those shutterbugs and web video followers, which wraps up preserving your home-made videos in AVCHD, MOD, TOD, MTS and enables to upload the self-made Easter videos to YouTube, Myspace, Vimeo, etc with zero effort.
More remarkable, besides turning your portable media devices into full-fledged entertainment hubs, the Easter freebie also wins out over other similar video converting programs in terms of video quality and conversion speed. With this Easter gift, the whole conversion process can complete with super fast speed on Mac OS X while holding 1:1 image quality.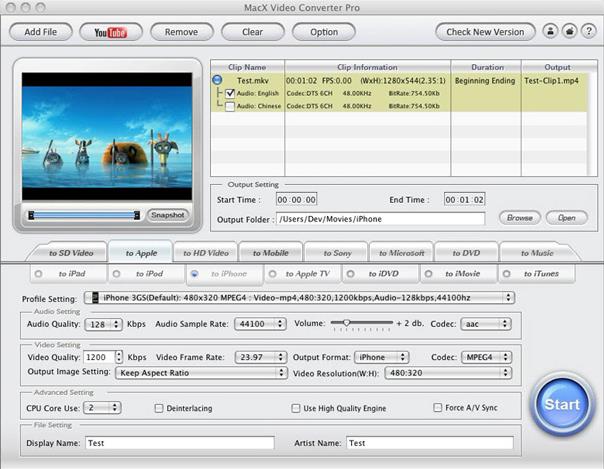 See more information of this video converter for Mac, please head over to:
http://www.macxdvd.com/mac-video-converter-pro/
Actually, MacXDVD 2013 Easter deal does not only embrace the marvelous MacX Video Converter Pro giveaway but also surprises all customers by stuffing other wondrous Easter gifts in Bunny's basket, where you can obtain Easter discount coupon on its best-selling programs and possibly get MacX iTunes DVD Ripper for free once joining the egg-smashing game.