Most people don't realize how vulnerable they are till they get locked out of their PC or have their money stolen. The first response is usually an Anti-Virus, but with 300,000 virus and malware everyday it's unrealistic to expect that they can catch them all.
Some even do more harm than good as most of these solutions automatically make potentially damaging changes to your PC and are highly dependent to their own ability to detect threats.
How can anyone reasonably protect themselves nowadays? Try this free app I recently discovered called SecureAPlus and read on to get a "Free upgrade" to the Premium version (normally $22.50 per year) exclusively for our readers.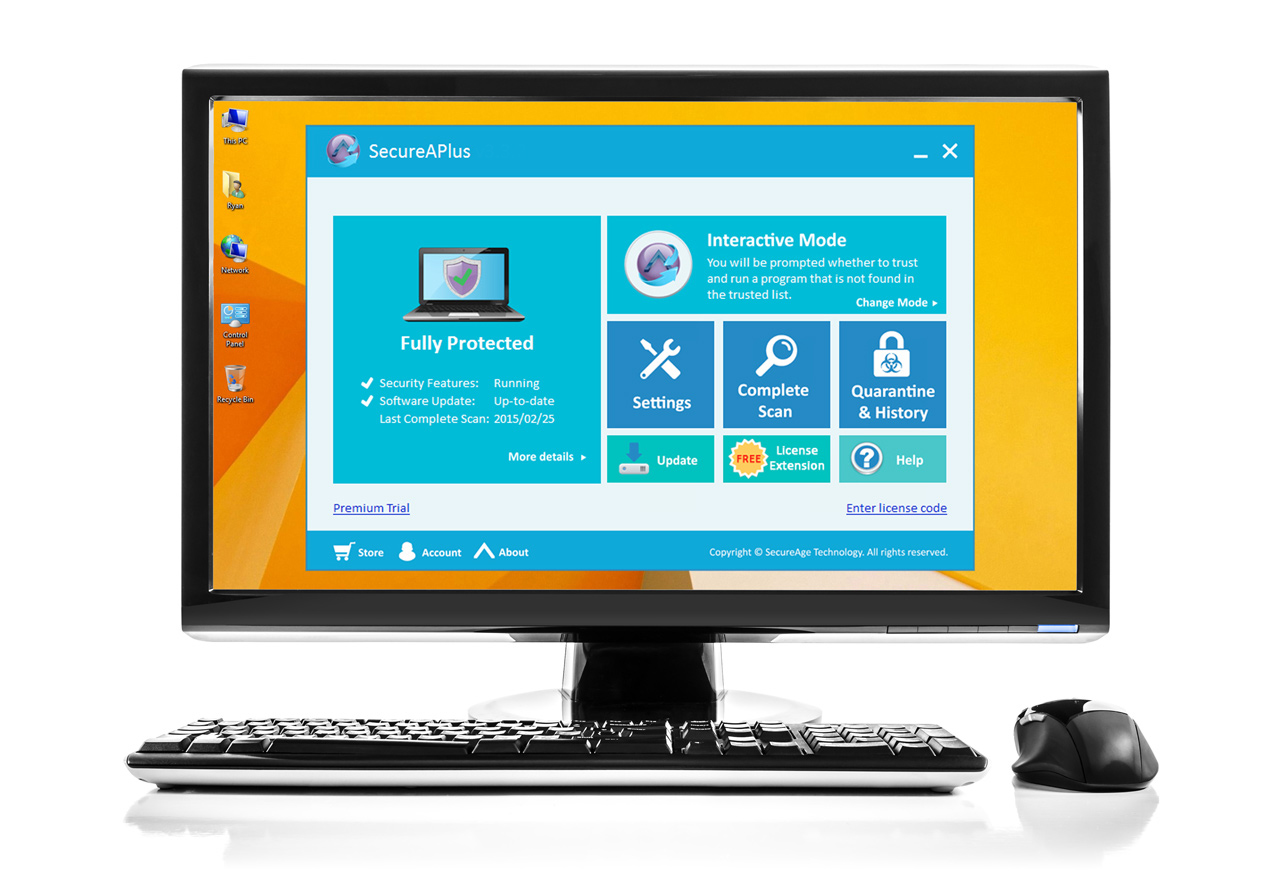 • Multiple Cloud Anti-Virus Engines in One
(Emsisoft, Avira, Sophos, McAfee, Microsoft, ESET, BitDefender, AVG, Norman, Quick Heal Total Defense, ClamWin)
• Straightforward Application Whitelisting
• 1-Minute Full System Scan
• Light on resources (without Offline AV)
• Offline Anti-Virus Scanner (Optional)
The first noticeable and probably most relatable feature is its use of multiple anti-viruses for a higher detection rate. Normally impossible and even impractical due to the high RAM requirements of running a single Anti-Virus, SecureAPlus puts the engines in the cloud instead of in your computer allowing it to work together at the same time without using substantial resources.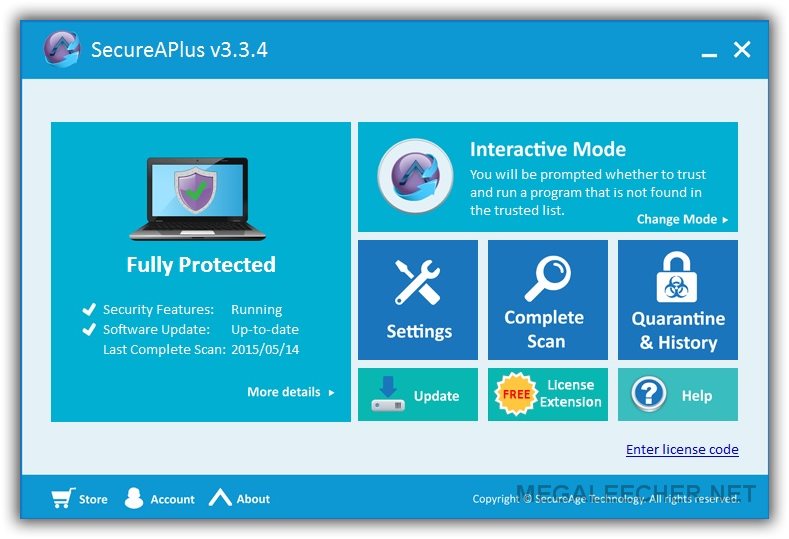 What makes it unique from the likes of Virus Total (50+ anti-virus & anti-malware engines) & Herd Protect (68 anti-malware engines) is that it scans in real-time all the time. You don't have to upload files to a multi-scanner nor will you need to manually do a full system scan. Speaking of full system scans, after doing the first one during the setup, any subsequent scans take less than minute to complete.
What really sets it apart is the integration of those 12 Anti-Viruses (or simply Universal AV) with Application Whitelisting. How this works is basically this – instead of trying to know all about those 300,000 new threats daily, SecureAPlus by default blocks everything except trusted applications.
Trusted applications are determined once you finish the initial full system scan (which admittedly may take awhile) through a combination of what's already on your PC and an evolving library of trusted applications on their servers, making each whitelist unique to each user.
When a new untrusted application (or script) tries to launch, explicitly (you clicked it) or discretely (runs in the background), SecureAPlus does the following to the app (or script):
1. Block it and let you know that it is trying to run.
2. Automatically scan it with Universal AV or consult Virus Total if the initial findings are inconclusive.
3. Give user a brief diagnosis on the nature of the untrusted file.
With this information, you are then free to decide whether to trust or block the application. It respects me as a user and gives me all the information needed to make an informed decision.
Case in point, if I downloaded a completely new app and opened it, I fully expect to be prompted to trust it. On another note, if for some reason something malicious gets past all those 12 anti-viruses (no library can recognize all 300,000 new threats daily) and tries to run automatically, SecureAPlus will always stop it till I explicitly trust it, of course I wouldn't since I never launched it in the first place or I may choose to trust it based on the diagnosis of either their 12 engines or from the automatic 2nd opinion from Virus Total.
If you don't like being prompted when you don't need to run any new application, switch to Lockdown Mode and simply switch back to Interactive Mode whenever you expect to run anything new.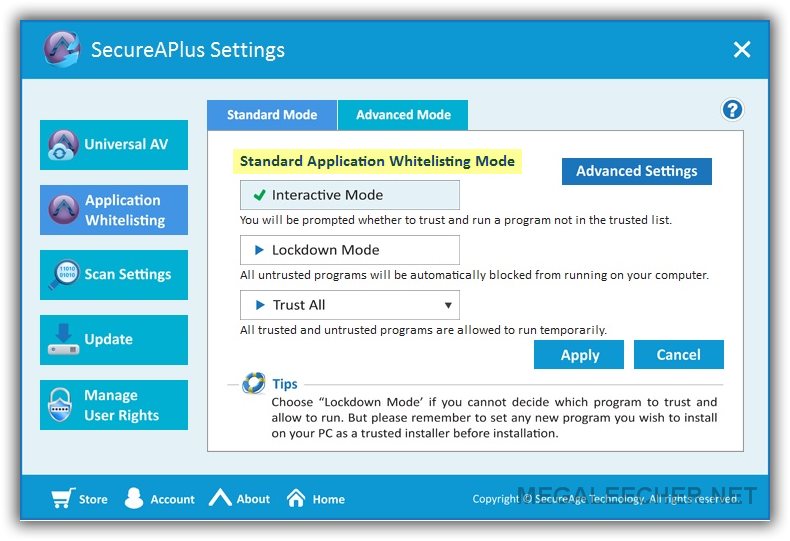 Of course the most obvious drawback is that you need to be online to enjoy the automatic diagnosis of the Universal AV or Virus Total.
But here's the best part, even better than SecureAPlus being free – the Application Whitelisting and Universal AV work perfectly fine with any other local Anti-Virus. That means you can either use their optional Offline AV (which is powered by ClamAV) or use any other free or paid anti-virus program. You lose the diagnosis from Universal AV when you're offline but untrusted applications are still always blocked since Application Whitelisting operates locally on your PC.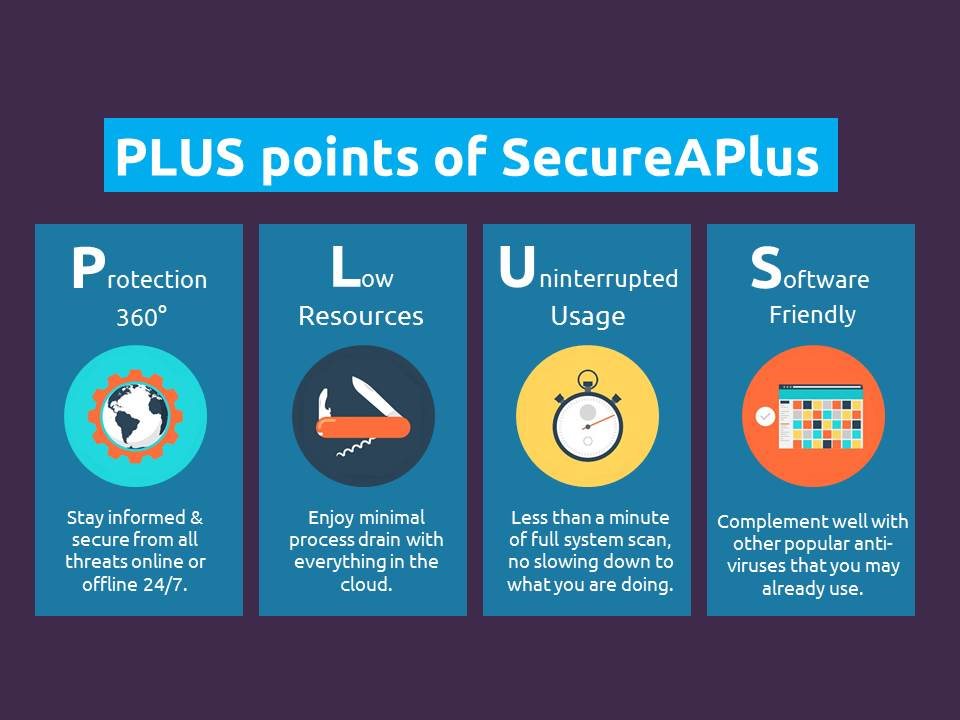 SecureAPlus is a unique approach to PC security that combines traditional blacklisting (anti-virus) methods with practical application whitelisting. It's light and fast for just about any PC configuration yet surprisingly flexible enough to run with any security solution you may already have.
It's free for the first year, and it seems that it's easy to extend the license by simply referring them (share by email or even just share them on facebook). There's also a Premium version you can buy for $22.50 a year that has additional multi-PC management and alert features.
Here's even more reason to try them out. From , SecureAPlus is running a special giveaway to Megaleecher readers.
Simply download and install the Free SecureAPlus and then go to the following URL:
http://www.secureaplus.com/megaleecher2015a
Follow the instructions on that page to instantly get your license upgraded from the 12-month Freemium to the 18-month Premium version (worth around $29).
Note that you can do this for multiple installs during the period and assign them to a single SecureAPlus Account, ideal if you'd like to have all your home or office computers (yes, this promotion is also valid for enterprise usage) managed from a central account.