In most offices, creating an invoice will take a lot of time. To make one, you need to determine your clients and the amount of money needed to create the bill. After identifying the details, you have to make the bill and then print it. You also need to track the bill to know if it's paid or not. If there are complaints, you have to check all of your records to verify it. All of these processes will consume a lot of time. Making an online invoice is not just less expensive, but is also more organized and will take up less time. If you want to create PDF invoice, you'll be glad to know that you can do so with ease and without spending a dime.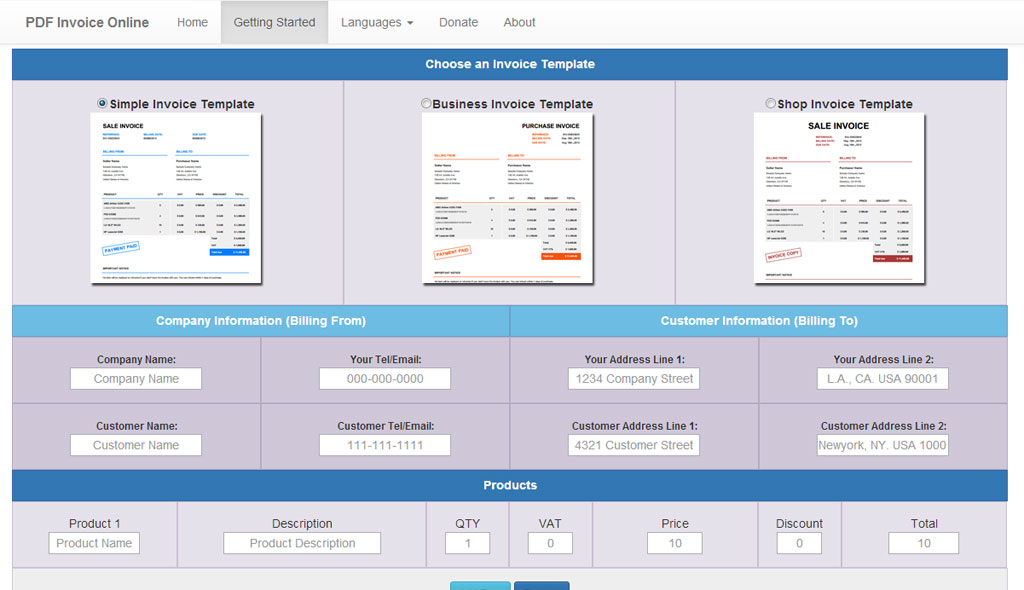 PDF Invoice Online is an online app that allows you to make PDF invoice for free. Regardless of your purpose, whether you want to use it for business or personal reasons, this app will let you create as many invoices as you want without spending anything.
Customize your Invoices
Choose the color of your PDF invoice theme. You are free to customize your PDF invoice to make it more personal and unique.
Access PDF Invoice Online from any Device
Create PDF invoice from your PC, laptop, tablet, Mac, iPad, iPhone or Android phone. PDF Invoice Online is mobile-friendly, so you can always make your desired amount of PDF invoice regardless of your location. Just download the invoice to your device and that's it. For your further convenience, you can send the email that includes your invoice to your customers directly without downloading the app.
Choose from 3 Invoice Templates
PDF Invoice Online offers 3 invoice templates to pick from – Simple, Shop and Business. Just choose what you want and start creating a PDF invoice right away.
Available in 6 Languages
PDF Invoice Online is available in 6 languages – English, Deutsch, Francais, Español, Dutch and Italiano.
Why Use PDF Invoice Online?
• PDF Invoice Online saves printer ink, postal charge and paper.
• Access or pay your invoice even when you are traveling.
• Send invoice to your customers easily and fast. This allows you to improve your relationship with them instead of wasting time completing the forms of your billing.
• Avoid complications or risks that may arise regarding the payment of orders purchased through the web.
With PDF Invoice Online, you can improve the capacity of your billing and deal with customers regardless of their location. It's a paperless process so if you are concerned about the environment, you will love this app. It reduces postal charges and the printing of credit notes, bill and reminder letters. You can also keep data in your computer to avoid any form of system failure.
PDF Invoice Online can be used for both commercial and personal purposes. The invoice you made can be downloaded easily and accessed on your mobile phone or sent directly to your customers. The best thing about it is that you can do all of these for free!
So if your ever need to create and send PDF invoices the free online solution is available at - http://www.pdfinvoiceonline.com