If you are looking for an all-in-one free software to create, extract and edit icons look no further, IcoFX will do the job perfectly, the simple to use powerful icon editor lets you perform advanced icon tasks with ease, the software supports icon creation for Windows 98 / ME / 2000 / XP / Vista and Macintosh with full transparency and alpha channel support.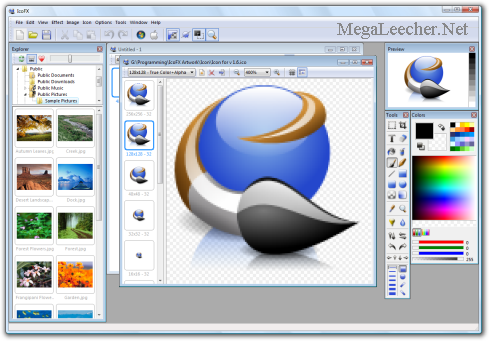 ICoFX Features:
Powerful image editor like functions to change color balance, saturation, brightness, contrast, blurring, drop shadows and more then 40 additional effects.
Options to import images and convert into icons or vice-versa.

Support For Batch Processing.
Built in powerful resource editor for creating icon libraries and changing icons inside executable files
Support for conversion of Macintosh icons to Windows icons and vice versa
Full support to Open, save, edit and convert Macintosh OS X icons with options to extract Macintosh icons from resource files.
Snapshot window for creating overviews of the icons
support for custom filters to create personalized effects.
Data types: 2, 16, 256, True Color, True Color + Alpha (optional dithering for 2, 16, 256 colors)
Extract icons (including Vista icons) from 32 bit exe and dll.
File Explorer window for easy file browsing and importing with full drag & drop support.
Many useful drawing tools like brush, line, rectangle and more.
IcoFX is an impressive feature packed free software, A must try for your icon editing needs.