We have shared tips on how to get your Indian Railways PNR status and other inquiries from your mobile-phone and alternative websites allowing users to extract train information with ease.
A new service myPNRStatus is going to make things even simpler, instead of re-actively (users asks for information and it is delivered) supplying information myPNRStatus lets users enter their PNR code and mobile-number once and it will send SMS updates to user about any changes in their PNR status or Train Timings changes for FREE.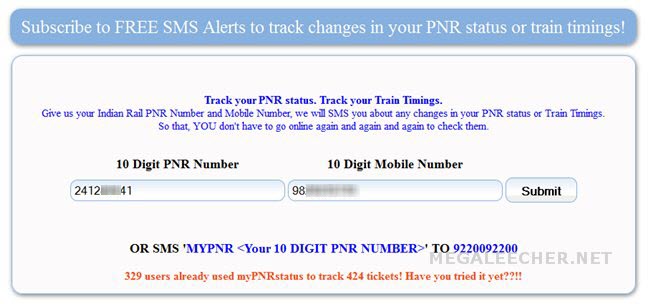 The service is free, simple to use, and a huge time-saver, users can register for mobile-updates by visiting the website -
www.mypnrstatus.com
or by sending an SMS '
MYPNR Your 10 DIGIT PNR NUMBER>
' TO
09220092200.