There are numerous free video downloaders and converters for Windows and finding one suitable for your needs is pretty easy, but if you are on Mac you are out of luck as finding a free solution is quite hard, Thanks to our reader EVA, today I will be sharing an easy to use solution for downloading videos from online video sites on your Mac OS X (Tiger & Leopard) computer.
iSkysoft Video Downloader is an free software for Mac allowing users to download FLV video files from popular video sites like YouTube, Google Videos, Yahoo Videos, Metacafe, Break, MySpace, Gofish, AOL, Veoh, imeem, Blip.TV and other similar video websites.
Using the software is pretty easy as it automatically sniffs video files played inside Safari and Firefox browsers allowing you to download the full-length videos with ease, the utility is multi-threaded and supports batch downloading options for simultaneous downloads, you can enjoy the downloaded .FLV movie files on your MAC computer using the in-built FLV player, but if you want video conversion feature you will need to upgrade to the PRO version costing $29, However, If you are not willing to spend money and want a free solution, here are two excellent free solutions to convert videos on your Mac computer with ease.
Our first solution is PunyVid (formerly iSquint), the no-fuss easy to use free utility lets you convert all popular video formats to iPod compatible MPEG-4 and H.264 formats faster then QuikTime PRO, the uncluttered easy-to-use drag-and-drop interface makes the whole process simple and fast.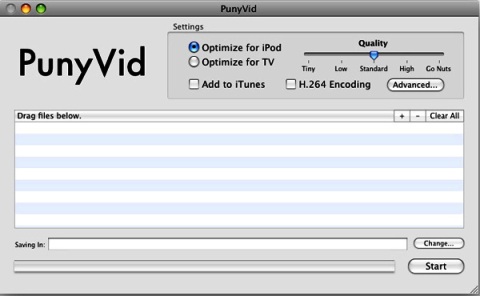 Alternatively, if you are looking for a full-fledged advanced video converter solution for Mac OS, ffmpegX would be your best solution, the free Mac OS X software provides users with an graphical user interface to work with more than 20 powerful Unix open-source video and audio processing tools including the popular, powerful and fast ffmpeg encoder.