An ISO image is basically an uncompressed archive file of the digital media or the disk which is created by copying an optical disc, from sector to sector, into a file. Currently, many tools are available on the market to create, mount, and manipulate ISO image files. One such image tool is Jihosoft ISO Maker Free. This utility allows you to backup disk as ISO image, create ISO image from files and folders, extract contents of an ISO file, and burn ISO image to DVD disc. Here's a look at the four main functions of Jihosoft Free ISO Maker.
Byte Backup - Backup Disk as ISO Image
From the detected drive list, select the disk or partition yow want to create a backup image file. Once you confirm the selection, the program will immediately take sector by sector image of selected region.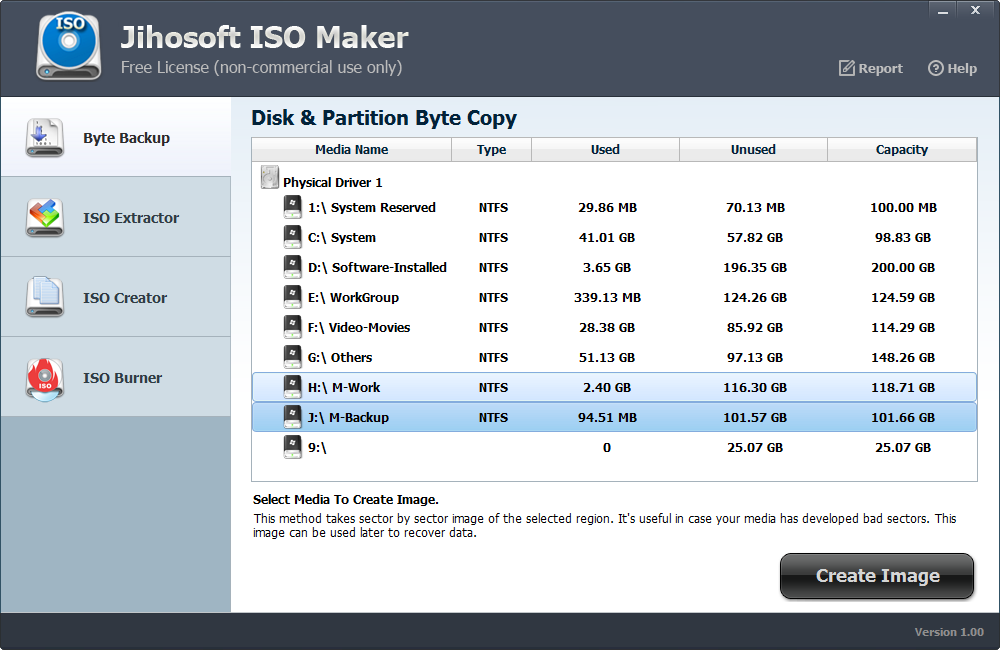 ISO Extractor - Extract Contents of ISO File
In this module, you can load ISO file and extract its contents to any folder as you want. The tool extracts all contents from that ISO file by default. Also, you can press "Ctrl + Z" to select the files or folders of your choice.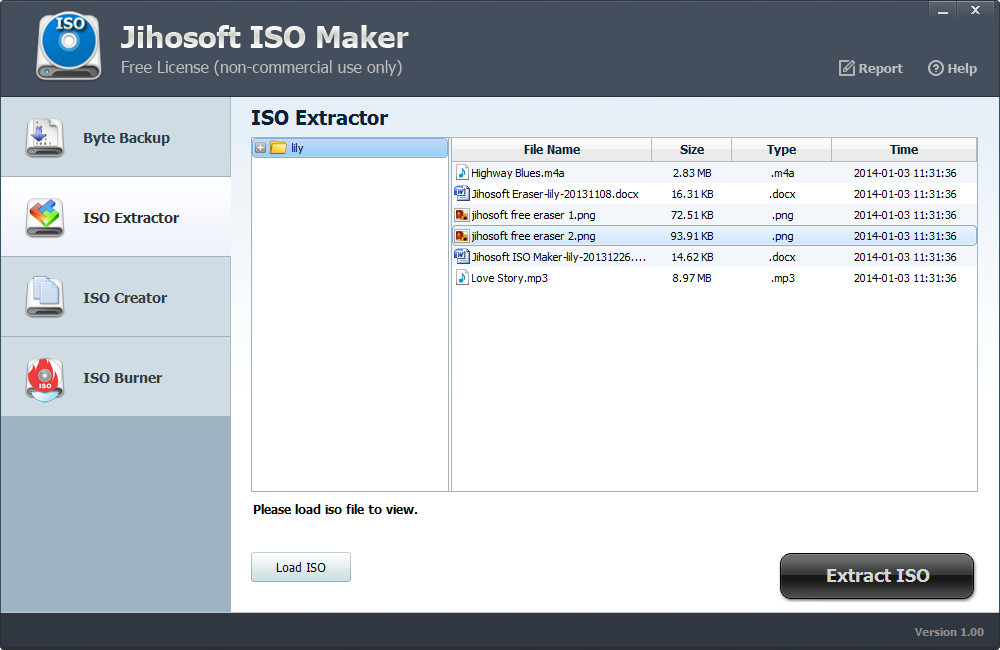 ISO Creator - Create ISO File from Files & Folders
Creating backup image of your important documents, programs, or multimedia files is really useful. This freeware application lets you add any files and folders on your disk to create an ISO image file for easy and secure storage.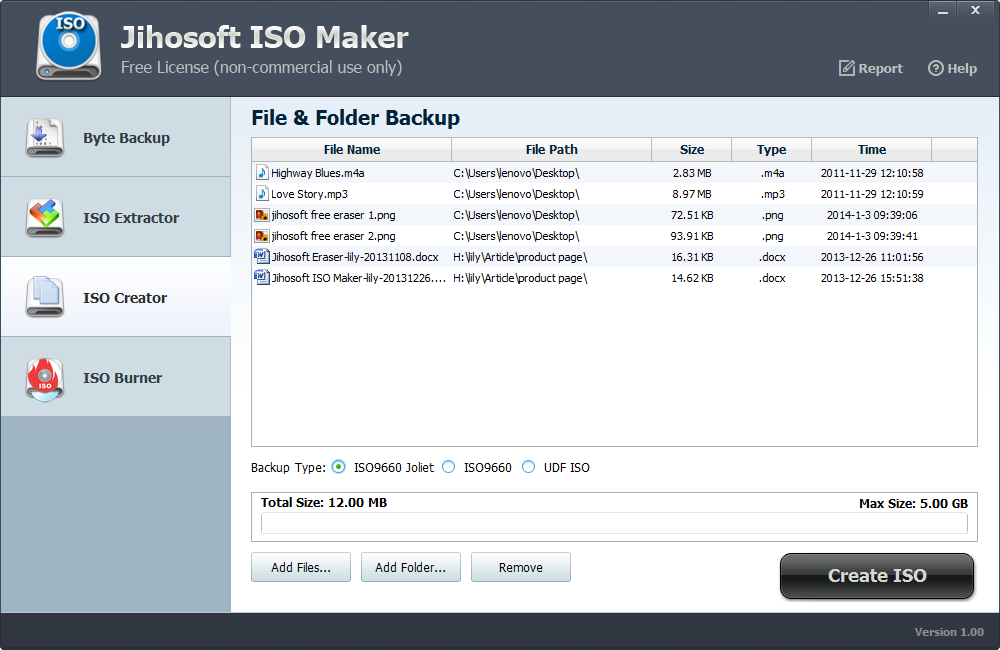 ISO Burner - Burn ISO Image File to a DVD Disc
It is also a great ISO Burner tool which enables you to easily burn any files, folder, or even ISO file to a DVD disc. Be sure the DVD disc is a blank one. If not, you need erase it first before burning starts.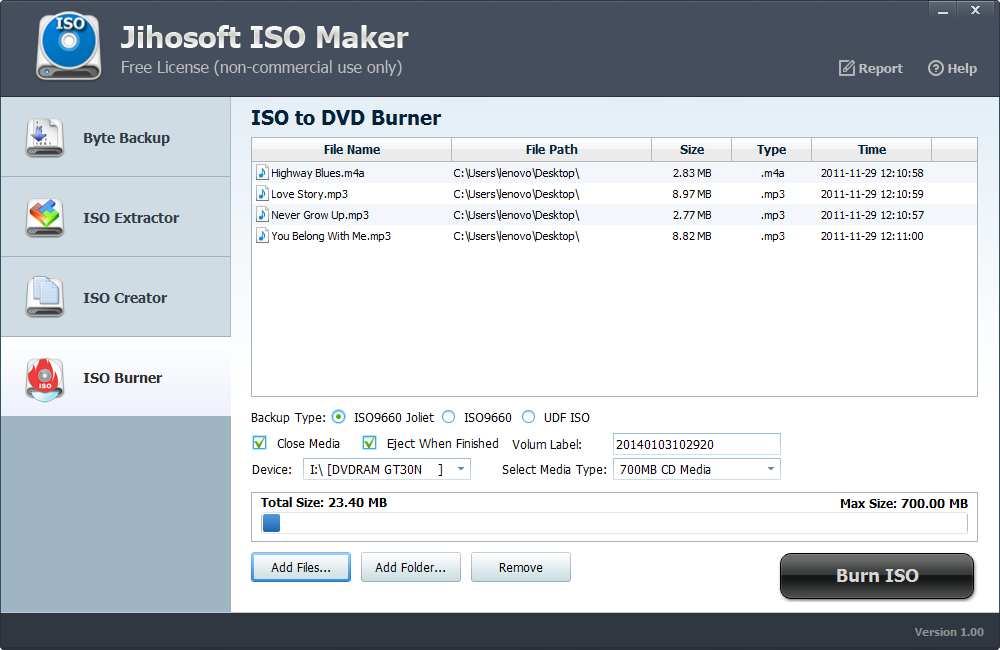 Fast, clean and safe installation;
Complete free for personal and non-commercial use;
Straightforward and user-friendly interface;
Support 700MB CD Media, 4.78GB DVD Media, 8.5GB Dual-Layer DVD, and 25GB Blu-ray DVD.
Support ISO9660 Joliet, ISO9660, and UDF ISO formats;
Windows 8/7/Vista/2000/XP
http://www.jihosoft.com/backup/iso-maker-free.html