It is believed that most Windows users have encountered data loss situations, and the loss of important data may bring them countless trouble or even serious economic losses. Therefore, to furthest recover lost data seems so important. Recovering data lost due to hardware damage, users should turn to professional data recovery companies, but to deal with data loss situations caused by software errors, such as mistaken deletion, accidental formatting, virus attack, and power outage, they are highly suggested to ask professional data recovery software for help, which can help avoid privacy leakage to the largest extent. Nevertheless, most data recovery programs on the internet are so expensive that common users can not afford them, but MiniTool Power Data Recovery Free Edition is an exception. Though it is a piece of freeware, its data recovery competence is much more powerful than that of most chargeable programs.
Functions of MiniTool Power Data Recovery Free Edition
Equipped with 5 functional modules, it can help recover data lost due to almost all soft errors.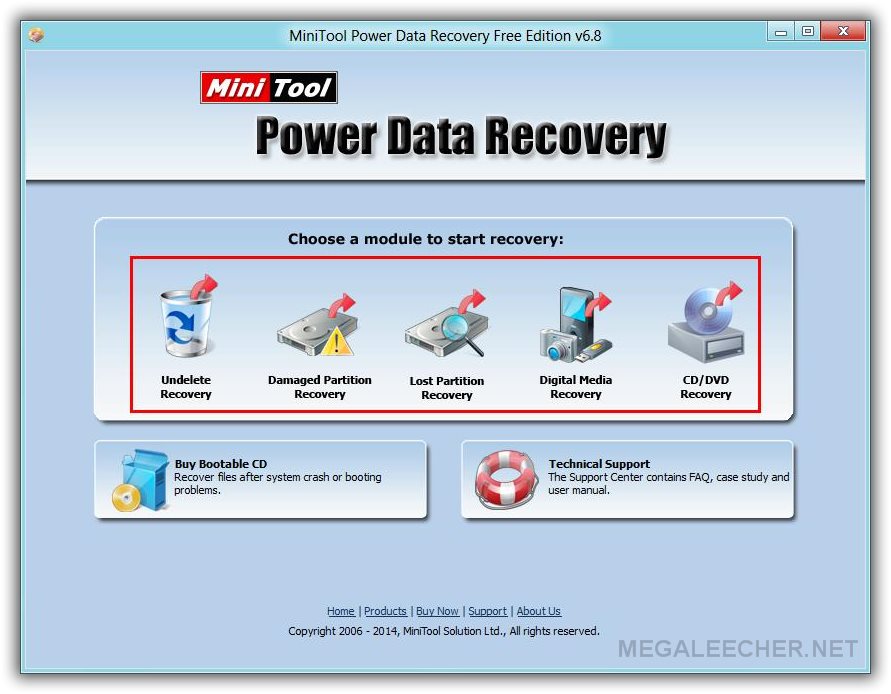 "Undelete Recovery": recover both mistakenly deleted data and maliciously deleted data even if recycle bin has been emptied.
"Damaged Partition Recovery": restore lost data from formatted partition, reformatted partition,
inaccessible partition, RAW partition, the partition Windows asks to format it, etc.
"Lost Partition Recovery": retrieve data from deleted or lost partition.
"Digital Media Recovery": scan and recover digital media files only, including images/pictures, audio files, and video files. Therefore, data recovery efficiency can be enhanced largely.
"CD/DVD Recovery": restore erased data, formatted data, and deleted data from CD/DVD and even recover data from scratched or defective CD and DVD. Currently, most data recovery software does not support CD/DVD data recovery while MiniTool Power Data Recovery Free Edition does.
1. Detailed operating prompts are given in every interface, so users will be clear about every operation. For example: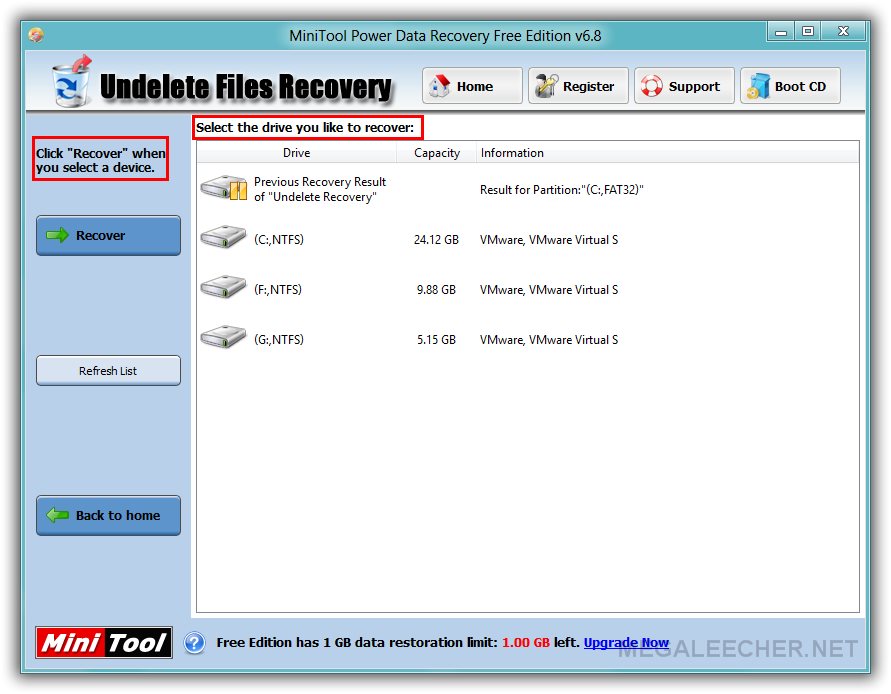 2. "Find file": with this feature, users can find desired files directly from a great number of files via inputting file name.
3. "Advanced Filter": when users feel difficult to find needed files from a mass of files, this feature helps filter data by filename, file extension, file size, or creating time.
4. Preview effect: users are able to preview a file smaller than 20MB by double clicking it so as to avoid recovering needless files.
Support almost all Windows operating systems, including Windows XP, Windows Vista, Windows 7, Windows 8, Windows Server 2000, Windows Server 2003, Windows Server 2008, Windows Server 2012, and so forth.
Support all Windows file systems, such as FAT12, FAT16, FAT32, and NTFS.
Support data recovery on both magnetic storage devices and optical storage devices.
Support data recovery on dynamic volume, containing Simple Volume, Mirrored Volume, Striped Volume, Spanned Volume, and RAID-5 Volume
Allows users to recover only 1GB of data for FREE.
"Load Previous Result" feature is not contained.
Can only be used in non-commercial environment.
Nevertheless, all these limitations just do little influence on data recovery effects. As long as the data users want to recover are no more than 1 GB, MiniTool Power Data Recovery Free Edition can fully meet the demands.