I would like to inform you about good news and that is a chance to get PDFelement for free. This offer is just open for a period of 7 days and that is from December 13th to December 19th. What you need to do to stand a chance is just by writing a review about this amazing software. For you to write a review, you have to download and install PDFelement, then try it to know how it works and now write about it. It is just that simple, nothing else. The winner will be chosen after the expiration of the promo and make no mistake, it could be you.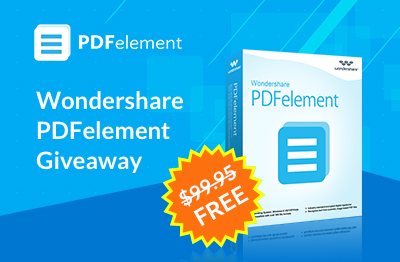 PDFelement is an all in one PDF editor that allows you to edit, convert, create and do a lot of things with your PDF files. It also boasts of an OCR technology which ensures that you can even edit scanned PDF documents. It is available in Windows (PDFelement for Windows, $89.95) and Mac (PDFelement for Mac, $99.95). However, all these you can get for free if you become one of the winners of this promotion.
Good luck! Hope you win. Get the free code here!