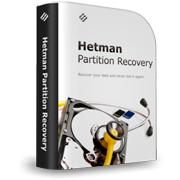 With Windows 10 slowly but inevitably conquering home and office PCs, more and more users are starting to look for a data recovery tool that works with the new OS. Hetman Partition Recovery 2.3 (and all newer versions) is fully compatible with Windows 10, its new system structures and security mechanisms. Let's have a look at some key technical features of the tool.
In early days of personal computers (at least in Microsoft realm), hard drives were partitioned exclusively with Master Boot Record, or MBR. The MBR was part of the system's boot process in the days when BIOS was king. In the early years, the boot sequence looked as follows. The computer's BIOS (a set of programs launched from a chip embedded into the motherboard) would initialize hardware, spin up the hard drive and attempt to load software from the disk. In order to determine where exactly to look for the bootable code, BIOS analyzed partition information that was stored in the Master Boot Record.
This scheme worked like a charm for almost a decade. Later on, the new 64-bit architecture arrived. At about the same time, the capacity of available hard drives grown to exceed 2 TB, which was the maximum partition size of an MBR-formatted disk. A new standard was needed to facilitate the development. BIOS had to give way to UEFI, and MBR was replaced with GPT.
GPT (GUID Partition Table) is a universal standard for partitioning the disk. Technically, it's part of the new UEFI standard, which was set to replace the ancient BIOS. Natively, GPT is only partially supported in 32-bit versions of Windows 7; however, all 64-bit editions of Windows since Windows Vista have full boot support for GPT-formatted disks. Windows 8, 8.1 and Windows 10 can boot from GPT disks in both 32-bit and 64-bit editions.