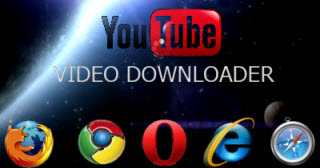 If you are an active internet user, there is a good chance that you have seen a video on YouTube that you so much liked. You had to go back and again for the slow buffering when you wanted to watch it again. This can be frustrating as it wastes time, and data. YouTube is designed to allow only video streaming. This is the main reason why you need to find a way of downloading YouTube videos to your computer, smartphone or tablet so that you can come back later to watch them offline without going through the hassles one more time. There are lots of ways to download YouTube videos to your computer but one the easiest method is to install a YouTube downloader add on to your favorite browser.
I. FireFox Solution – 1-Click YouTube Downloader
This tool is incredibly user friendly. Tracking down and installing this YouTube downloader add-on is straightforward also. Read on to understand how.
First, open Firefox. Click on the orange button and click add-ons. In the search box in the upper right hand corner of the window, enter YouTube in the search box and press Enter. 1-Click YouTube Video Downloader should be the first result that comes up. Click the Install button next to 1-Click YouTube Video Downloader on the right side of your computer screen. After setup is complete, which ought to take several seconds at most, you will have to restart Firefox to be able to use the new add on.
After Firefox is restarted, you can start using 1-Click YouTube Video Downloader. Simply navigate to YouTube.com, find the video you would like to download, and click on it. Look below the player and you should locate a red button. Click on it, and you will have the ability to select from multiple image quality choices. (We recommend that you simply decide on the choice labeled MP4 720p at the top.) Subsequently, choose a download destination in your computer and click "Save", which will begin the download. This extension may not be able to convert URL to video and save it via URL, but you can click the link for further instructions.
II. IE Solution – DownloadHelper for IE

DownloadHelper is another awesome extension specially designed for IE users to download video contents from web. This tool only takes quite a short while to install on your IE and will appear as a tiny cyan arrow on the status bar. Once a downloadable video has been loaded, the arrow will turn to green and remind you to click and grab it. This handy tool provides multiple output options for saving the clip, including both video and audio file formats. Despite YouTube, it also covers a few more video sites like Dailymotion, Vimeo , etc. However, there's no luck when you try to download from VEOH, Metacafe, etc, because they provide videos in RTMP portals. Read more info about DownloadHelper internet explorer.
III. Chrome Solution – YouTube Downloader Add-on
If Chrome is your favorite browser, you could also snag YouTube video you need by installing a YouTube downloader add on.
Open Chrome and search for "YouTube Video Downloader" in the chrome web store, install the add-on by clicking "Free." You will be prompted to give the add-on permission to be installed.
From there, visit YouTube.com, locate whatever video you would like to download, and click on it. You will find a ruby colored button, underneath the video player and below the Subscribe button. Click it, and a brand new browser tab will open.
Click on this new tab and scroll down to choose from the quality choices at your disposal – it is advisable that you simply download the MP4 version every time. Click on the MP4 version to start downloading the YouTube video, and find the green Download button next to it you picked. The download will subsequently appear on the bottom left corner of your Chrome window. Once the download is finished, you can click on that button to see the video.