It has now come into light that Windows 7 Build 6801 which was released at PDC 2008 had some major features locked, However, Rafael from WithinWindows has released an patch dubbed "Blue Badge" for Windows 7 build 6801 allowing users to unlock these hidden protected features meant for full-time Microsoft employees only.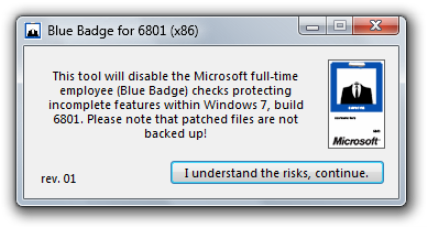 Once patched new Windows 7 features like the new Taskbar, gestures, panning, and Desktop Slideshow (Wallpaper Changer) will get unlocked.
The fix patches following core Windows 7 files to get past the restrictions imposed by Microsoft:
\Windows\Explorer.exe
\Windows\System32\shell32.dll
\Windows\System32\wisptis.exe
\Windows\System32\ieframe.dll
\Windows\System32\stobject.dll
\Windows\System32\TabletPC.cpl
\Windows\System32\themecpl.dll
\Windows\System32\themeui.dll
\Windows\System32\powercfg.cpl
You can download the "Blue Badge" patch for 32 Bit Windows 7 Build 6801 Here, don't forget to backup the patched files as recommended.