The Windows 7 anti-piracy update which pirates were fearing is now live getting distributed as KB971033 via Windows Update, the Windows Activation Technologies (WAT) update is tagged important and features detection of more then 70 known Windows 7 activation hacks and cracks informing users of their genuine copy status taking actions if usage of piracy is detected.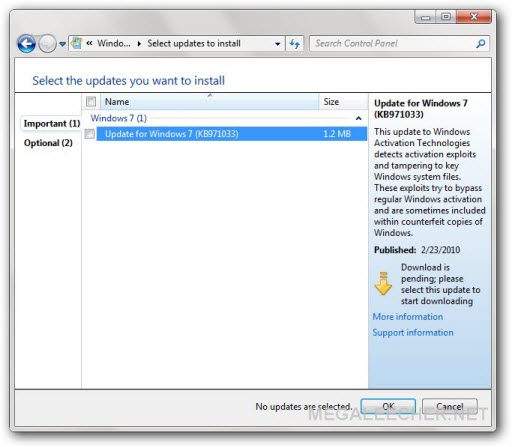 However, pirates can still dodge this update by simply not opting to install it or even uninstalling it from Windows Update -> Installed Updates section, they can even restore to a pre-KB971033-update state as Windows creates an automatic restore point before installing updates (seems not to work from user comment below).
This update for Windows Activation Technologies helps detect validation errors and activation exploits. This update also detects any tampering attempts made to important Windows 7 system files. Be aware that some counterfeit copies of Windows include malware.

When this update is installed, it performs a validation process for the copy of Windows that is running on your computer. However, this validation process does not affect the functionality of Windows. The update process exits silently if it detects no validation errors, activation exploits, or tampered files.

Tampered Files
If the update discovers a tampered file, it tries to restore the file. This restore may require a restart. If this update cannot restore the tampered files, it will direct you more information on the Internet.


Validation Errors or Activation Exploits
Validation errors and activation exploits try to bypass the Windows activation process and are sometimes included with counterfeit copies of Windows. If a validation error or activation exploit is detected, you will be directed to more information on the Internet for resolution of the activation exploit or the validation error. When validation errors or activation exploits are removed, you may be asked to use a valid product key to activate the copy of Windows 7 that is running on your computer. If you decide not to resolve the validation error or the activation exploit at that time, you will be periodically notified that the copy of Windows 7 that is running on your computer is not genuine. Additionally, Windows will provide a link to more information online for resolution.