While we have excellent free Youtube to full-hd video and mp3 downloaders like Easy youtube Video Downloader, YouTube also offers the ability to save videos for offline viewing with limitations. The feature which was launched back in 2014 and since then it has been working great for people at large. YouTube offline lets users download videos and watch them later. A new feature has been recently added to YouTube offline known as Smart Offline.
What is Smart Offline?
Smart Offline download videos late night when the discounted data transfer rate is applied by the mobile operator. This feature only works on the mobile date, not with Wi-Fi. You just have to click the gray arrow to download the videos for offline viewing. You must select 'Save overnight' on the next window. Sit back and relax. The YouTube smart offline will download the video late night with discounted data plan. It only works for Airtel and Telenor users in India.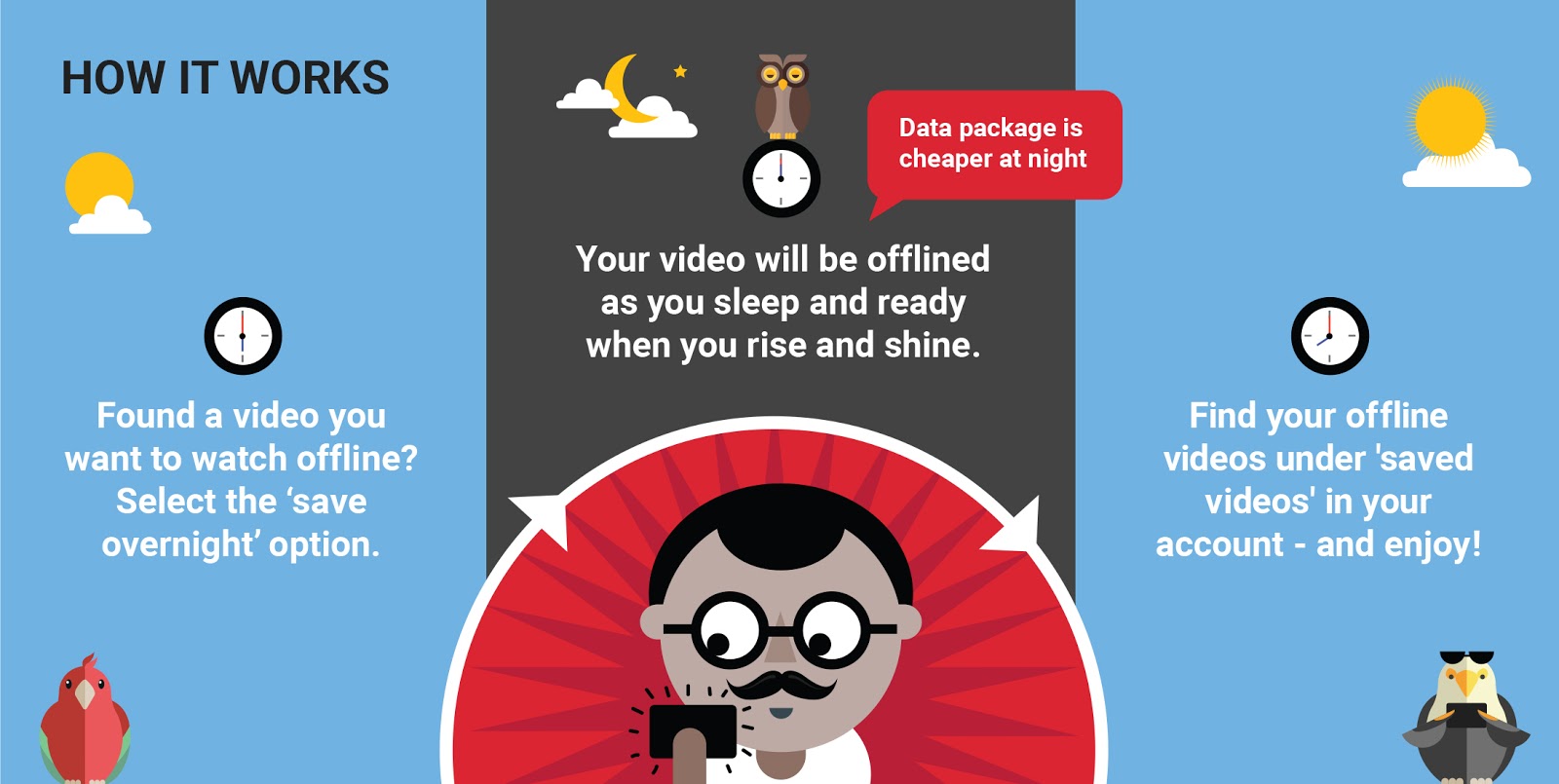 If your mobile carrier doesn't offer a discounted data plan, you will not see this feature. It doesn't work on Wi-Fi, and you must update your YouTube app to see this new and exciting feature.
Works on complete autopilot. It detects your mobile operator and if there is a discounted night data plan, it will give you the option to download overnight. Once selected, it works at the backend automatically. No supervision needed.
You can save some real bucks with this feature. After all, no one likes to consume the data plan and pay hefty data transfer price during the daytime.
Watch videos on the move and even in low connectivity areas. Offline videos are accessible all the time.
Smart Offline is a decent addition to the YouTube app but it has a few lacks, for example, you cannot transfer videos between devices, it doesn't allow to choose the quality of the video, and importantly, what if you just want to download the audio and not the video?
If you are interested in these features and are looking for something better than just an offline viewer, you need the hugely popular utility Easy YouTube Video Downloader.
It is a tiny browser extension. It doesn't work with the smartphones but you can transfer the videos from your computer to your phone easily, right?
Easy YouTube Video Downloader can be installed in a couple minutes. It has the potential to download any YouTube video. You choose the quality of the video. Need videos in small filesize, not a problem. Only need audio as mp3 format, no problem. Interested in 1080p videos, you are covered.
Once the videos have been downloaded, connect your smartphone to the computer and transfer the videos. It works on Wi-Fi and you don't have to wait overnight to watch a newly released video from your favorite YouTube channel.
Why wait when you can watch the videos instantly and can take them offline anywhere you want?
You have to understand that the Easy YouTube Video Downloader is not a replacement of Smart Offline. If you don't have access to Wi-Fi or just in case if you don't have a computer, you have to stick to Smart Offline as it is the best option.
When getting access to Wi-Fi is possible and you need YouTube videos for offline use, maybe for a presentation, Easy YouTube Video Downloader is a better option.