After reviewing and giving away exclusive invites for Astrill, PaperBus and Freedur anonymity services we have yet another exclusive giveaway for our blog readers, today we have for Skydur a pretty well known VPN/proxy solution for Windows, Mac and Linux users allowing them to completely bypass internet censorship with ease without messing with any manual configuration.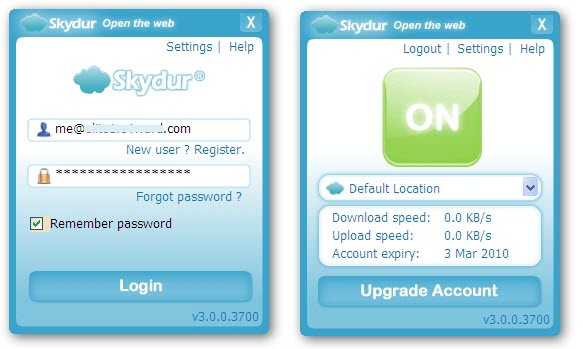 Fast and Easy Setup - Simply, Download, Install, and Login, it's that simple.
Supports Windows, Mac OS X, and Linux platforms.
Portable version for Windows also available.
Unlimited online support 365 days a year.
IP address of your choice from various servers for choice of US or UK IP address.
Skydur encrypts your connection. With highly encrypted connection you are protected from your ISP monitoring, Wi-Fi hackers (feel safe again on unsecured Wi-Fi), identity thieves, the giant spies like Google, Yahoo and AOL, government censorship's, collage and corporate firewalls and filtering software. Skydur bypasses all monitoring and filtering, feel freedom on the internet again.
No Bandwidth or Data Transfer Limits.
Skydur costs $10.99 per month but we have 100 Exclusive invites to giveaway for our blog reader, to participate in the giveaway simply retweet this post and first 100 twitters will receive the free exclusive invite code.
After receiving the invite code follow this simple guide to get your account :
Download Skydur application from here.
Launch Skydur and you will be prompted to create a new account, simply follow the visual guide below to use your invite code for registering the free account.

You are done, use your newly registered Skydur credentials to start using the service.
UPDATE : To all the participants who tweeted this post and won the free Skydur invite code, pls. send a direct message to MegaTechRewards to receive your code - We are sorry for the extra step as this was our first Twitter linked promo and we simply forgot to think about how to send back the invite codes.