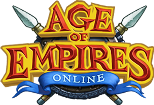 Online web-browser version of popular games titles is the new trend letting game-developers tap into a larger user-base benefiting from existing game popularity, after Quake Live, FIFA Online and Need For Speed: World the next to follow the suite is classic "Age Of Empires". Currently under free beta "Age Of Empires Online" will be launched as a part of Windows LIVE in 2011, The online-only game release is compatible with Windows XP, Vista and Windows 7.
A video demo of the online game-play is posted below.
You can enjoy the classic game in it's full beauty by registering for free at Age Of Empires Online website - www.ageofempiresonline.com .