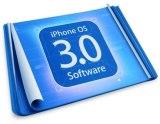 Apple is all set to provide an preview of upcoming Apple iPhone OS 3.0 on 17 March unveiling the latest iPhone SDK for developers, no further details are provided about the invite-only media-preview event but the announcement has definitely got iPhone users something to watch for in coming days, this upcoming major OS update is supposed to bring more features to somewhat lacking feature-set of this top-notch device.
iPhone still lacks basic features like Copy & Paste, MMS, Bluetooth file-transfer, Tethering and Video recording out-of-the-box and iPhone users are looking forward for these.
And yes, if you own a unlocked and jailbroken iPhone don't jump onto this update whenever its released before reading about whether the upcoming iPhone 3.0 is unlockable or not.