If you happen to view movies in foreign language's subtitles comes pretty handy, Subtitles are specially highly popular amongst non-English speaking Hollywood fans all over the globe, internet subtitle databases and search engines like OpenSubTitles, DivX Subtitles and AllSubs.Org help users search and download movie subtitles in their preferred language with ease.
The whole subtitle searching and downloading procedure can be made much simpler and fully automatic by using special subtitle downloading software's like SubDownloader and OSCAR.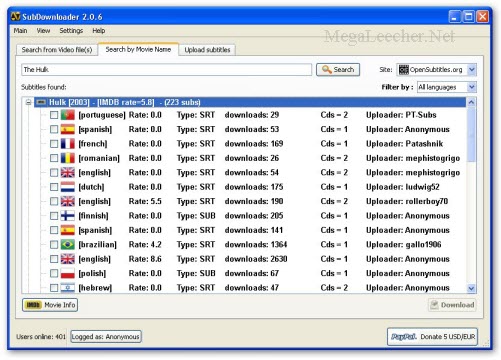 SubDownloader - The free and open source subtitle downloading utility for Linux and Windows lets you automate subtitle downloading and uploading for video files (DIVX,MPEG,AVI,etc) and DVD's using fast hashing.
Simple to use friendly user-interface for hassle-free fast and automatic subtitle searching and downloading.
Fast hashing algorithm (27 GB movies/7 seconds).
Ability to perform recursive folder search.
Automatic subtitle language detection.
The software works pretty well but the most important feature context-menu integration was somehow disabled in the latest version as also pointed out here, also the software tends to freeze at times.
OSCAR - My personal favorite subtitle downloader is compact, and requires no installation.

OSCAR Features:
EXACT MATCHES - instead of having a lot of subtitles matched to a single movie title, you assign them directly to a video file (using a specific fast hash function). So when searching for subtitles to a specific video file you'll only get those that match your video file 100%.
Fully automatic subtitle uploading and downloading support.
Multi-language GUI.
Windows Explorer integration for fast searching directly from context menu.
IMDB support.
Full drag-n-drop support.