Increasing TCP/IP maximum half open connection limit is known to boost P2P applications and accelerate torrent downloading, IObit has now came up with an P2P optimizer named P2PTurbo which allows you to tweak and optimize other TCP/IP and internet settings as well with ease.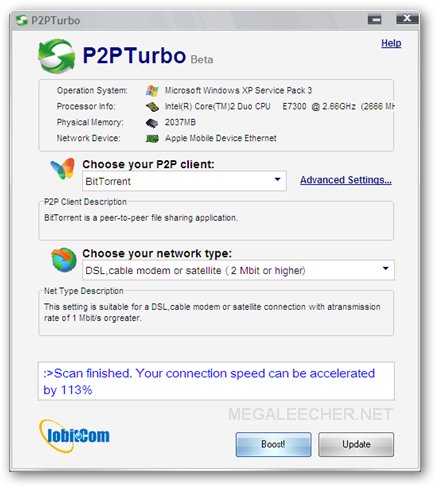 P2PTurbo scans your computer, network settings and P2P network environment for accurate detection and optimization of bottlenecks slowing down your P2P connections, the utility supports most P2P Clients like BitTorrent, Limwire, Imesh, Morpheus, Ares Galaxy, Bitcomet, WarezP2P, DC++, eDonkey, eMule, BearShare, Kazaa, WinMX and Shareaza.
The utility is under beta stage and available for free download from the link provided below, no installation is required to use the application.