Adobe PDF is a popular file format and I am pretty much sure you must have experienced the need to edit or modify a read-only PDF file sometime but found no expensive PDF editor installed on your PC ? Or you want to quote the useful content in PDF files and to complete your own documents by MS Office Word? Here I would like to share you with a free PDF to Word Converter provided by AnyBizSoft Studio, A booming company focused on PDF solutions. Now you can grab a fully functional free copy of it worth $29.95.
AnyBizSoft PDF to Word Converter 2.5.3 is an easy-to-use application, which is specially designed to convert read-only PDF file to fully editable word document. All the original text content, images, layouts and even hyperlinks can be well retained in the converted Word document. Batch, partial, right-click conversion modes make it more efficient and flexible. With it, you do not have to copy and paste from PDF to Word anymore.
Extremely easy-to-use
With user-friendly interface, you will be impressed at how handy it is.
Support encrypted PDF conversion
Owner Password will be removed after conversion, so that you can edit, copy and print the converted files after conversion.
Provide complete flexibility
You can choose batch, partial, right-click conversion modes.
Convert PDF to Word Accurately
The original text, layouts, images, and hyperlinks can be exactly retained in the generated Word documents.
Support multiple languages
English, Turkish, Thai, Latin, Korean, Greek, Cyrillic, Arabic, Japanese, Chinese
There are so many free PDF to Word Converters on the market, online or desktop. Following is the features Comparison Table of AnyBizSoft PDF to Word Converter 2.5.3 and other main free converters.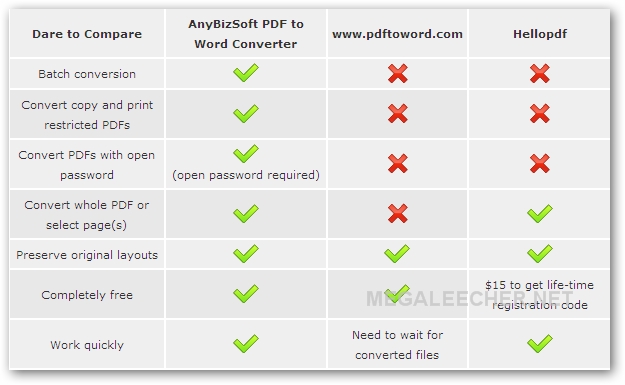 To benefit from this offer simply visit the product page here PDF to Word Converter and download the software. Then move to Get Keycode Page here and fill-in the details, you will receive the license code at registered email address, which can be used to register the software.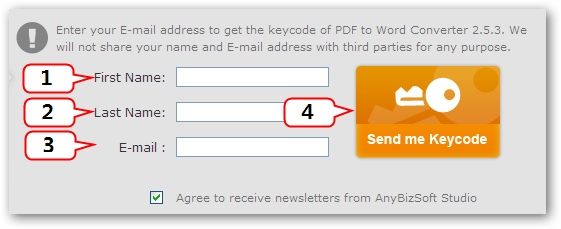 Let us take a look at its straightforward interface: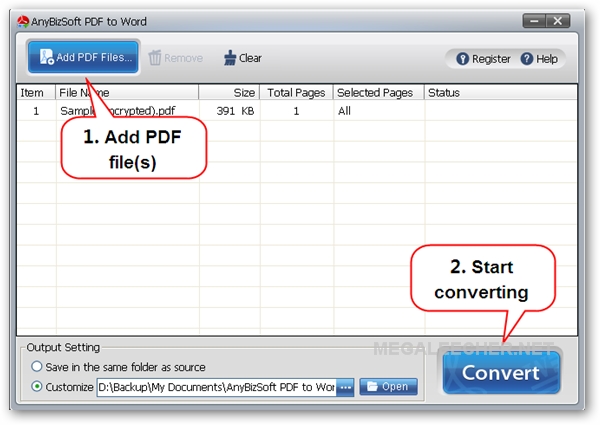 Sounds great? Just hurry up to grab a copy for yourself.