SpaceMonger is a not so well known utility for keeping track of files and folders on your hardisk graphically. Each file and folder is displayed in a colored box in the software main window whose size is a relative comparison to all the other files on your system. The program supports popup info-tips that can display file/folder information like the full filename, the icon, the date, size, and attributes of any file or folder. You can delete files from the right click menu and customize the number of files to be shown as well as the color scheme.
There are two versions of SpaceMonger - older version 1.4 is free and does not need any installation, the product is discontinued and a new shareware version 2.1 is available, the new version is more of a visual eye candy.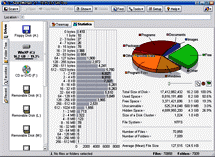 More about SpaceMonger by Author:
It's time to face the facts. Your computer's hard drive is a mess, and you have no idea where anything is in it. Heck, you don't even know what's in it. Search tools haven't helped; all they tell you is what you already know: that your data is a mess. What you need is understanding and organization.

Enter SpaceMonger, the best-kept secret of computer-room system-administrators the world over. Imagine, if you will, being able to fly over the mountains and hills and valleys of your drive in an airplane, elegantly soaring over the data and seeing from above how it all fits together. No matter how messy your data, no matter how jam-packed your drive, SpaceMonger can give you that bird's-eye-view you've wished for. With the magic of treemaps, as well as charts and graphs aplenty, you'll never be lost in your data again!
You can download both the old and new version in the zip below.