Apple's WWDC keynote 2012 unveiled the next major upgrade to the company's highly popular mobile operating system - iOS 6. With over the all new Apple iOS6 is currently available as a free download for registered developers and will be made available to users this fall as a free software update.
The most notable new features and changes would be - all-new iOS6 Maps app which entirely replaces Google Maps, new Siri features and commands, Facebook integration for Contacts and Calendar, Social posting from Notification Center, Facebook-enabled apps like Photos, Safari, and Maps, ability to share Photo Streams via iCloud, a universal virtual ticket storage system Passbook. Detailed explanation of these new features with images and video after the jump.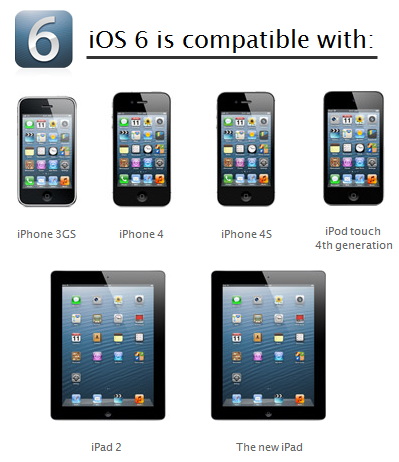 Apple iOS 6 Maps - an all-new Maps app with Apple-designed cartography, spoken turn-by-turn navigation, an amazing new Flyover view with amazing photo-realistic and interactive 3D views.

New Siri - new iOS 6 version features support for more languages, more countries and iPad.
Now supports commands to get sports scores and stats, restaurant recommendations, movies recommendations and even ask to make Facebook posts.

Facebook integration throughout iOS - Facebook integration for Contacts and Calendar, direct posting from Notification Center, tight integration with Photos, Siri, Safari, and Maps apps.

Shared Photo Streams via iCloud - Easy sharing just the photos you want, with just the people you choose.

Passbook - Your boarding passes, movie tickets, retail coupons, loyalty cards, and more are now all in one place. With Passbook, you can scan your iPhone or iPod touch to check in for a flight, get into a movie, and redeem a coupon. You can also see when your coupons expire, where your concert seats are, and the balance left on that all-important coffee bar card. Wake your iPhone or iPod touch, and passes appear on your Lock screen at the appropriate time and place — like when you reach the airport or walk into the store to redeem your gift card or coupon. And if your gate changes after you've checked in for your flight, Passbook will even alert you to make sure you're not relaxing in the wrong terminal.

iOS 6 new phone calling features - Now users have ability to decline an incoming callwith an instant reply text message and even set a callback reminder. An all new "Do Not Disturb" feature allows you to ignore all but few, very important calls.

Better streamlined Mail app with VIP list feature.

Better web-surfing with new Safari - All new iCloud Tabs keeps track of which pages you have open on your devices, so you can start browsing on one device and pick up right where you left off on another device. Ability to save web pages, not just links in your Reading List for offline access, direct camera and camera-roll access from Safari and full-screen picture view.