Finally, links to download iPod Touch and iPhone OS 3.1 are live and users can download them right now either automatically via iTunes or direct links provided at end of the post, the update is free for all iPhone users and iPod Touch users having firmware version 3.0 - it seems iPod touch users having older firmware version needs to pay $4.95 for getting iPod Touch OS 3.1.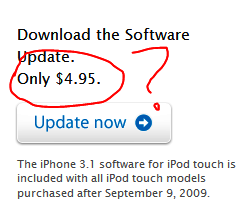 The software upgrade fixes quite some issues and bugs and introduces new features as follows.
New features in iPhone OS 3.1 :
Genius Mixes - Whenever you sync to iTunes, the Genius feature studies your library and finds songs that go great together, then automatically creates 12 new Genius Mixes.
Genius Recommendations for Apps - With thousands of apps in the App Store, how do you find cool new ones? Let Genius help. It looks at the apps you've purchased and recommends others you might like.
Peer-to-Peer Gaming - The newest games will make it easy to play head-to-head with a friend — whether your friend is sitting next to you or across the country.
Buy Movies, TV Shows, and
Audiobooks via Wi-Fi - Download movies, TV shows, music videos, and audiobooks over Wi-Fi from the iTunes Store on iPod touch.
Stereo Bluetooth - Enjoy music and other audio wirelessly. Pair your iPod touch with compatible Bluetooth stereo headphones.
New Languages - Enjoy support for up to 34 languages and more than 40 keyboard layouts.
Shake to Shuffle - Just give your iPod touch a shake, and it shuffles to a different song in your music library. You'll always be surprised by what you hear.
Parental Controls - Decide what music, videos, and apps your kids can access on iPod touch.
iTunes Store Account Creation - Create one or more iTunes Store accounts directly from your iPod touch.
Automatic Wi-Fi Login - Log in to a Wi-Fi hotspot and iPod touch conveniently remembers your user name and password the next time you connect.
Landscape Keyboard - Want more room to type? Rotate iPod touch to landscape to use a larger keyboard in Mail, Notes, and Safari.
improved Cut, Copy and Paste
and much more..