You might have experienced the awkward moment when you are ready to watch a piece of video sent by your friend on your iPhone, iPad or even computer only to find that the native media player software just gives you a black screen, meaning that you are not able to watch that piece of video. The reason cannot be simpler: the native media player installed on your iPhone, iPad or computer is incapable of handling the codec of that specific piece of video.
Possible solution? There are two. Option one is to find a 3rd party media player software which can cope with the video codec, however, this approach sometimes can take you nowhere, because for one thing, you cannot confirm the exact codec of that video so that you can locate a matched video player accordingly, and for another, you don't want to try endlessly one candidate after another until you find the correct one, do you? Then you are left only with the second option, which is to find a piece of video converter software so as to convert that unplayable video into the correct format that your iPhone, iPad or computer has the right codec for.
This approach can be quite easy, thanks to the convenience of Google and the abundance of such tools. When reaching out for such kind of tools, the only thing you need to worry about is the software's compatibility with your operating system, because not every software has different versions for both macOS and Windows platform. Fortunately, DVDFab Video Converter has both. As an all-in-one video converter software, DVDFab Video Converter is capable of converting any given video file of any possible format to any other specified format so that the yielded video can play smoothly on a specified device.
The greatest advantage of this universal video converter is its simplicity, even a non-savvy common user can easily operate without any expertise and assistance from professional tech savvies. All that needed are only two simple steps as detailed below.
Step 1: Navigate to the Converter Module and Load the Problematic Video

After downloading and installing the correct version of this all-inclusive video converter software on your computer, you are ready to go. Just start up the application by directly double-clicking the desktop shortcut icon, and then navigate to the 3rd tab at the top menu bar which is named "Converter", next you will have to load the problematic video that is causing you much trouble via the center positioned "Add" button, or the one near the top left corner, both will do the trick.
Step 2: Choose the Correct Conversion Profile to Convert

The most magnificent merit of this video converter software lies in its built-in conversion profile bank, where almost all the mainstream devices currently enjoying great popularity on the market from major manufacturers are listed. As developers from DVDFab have invested huge amount of time testing, optimizing, retesting and re-optimizing each conversion algorithm so that it can yield perfect video files that are playable nicely and flawlessly on respective devices, users don't have worry about anything, all they are asked to do is browse and locate the correct device and then simply get the conversion going, and transfer the final video to their devices for watching.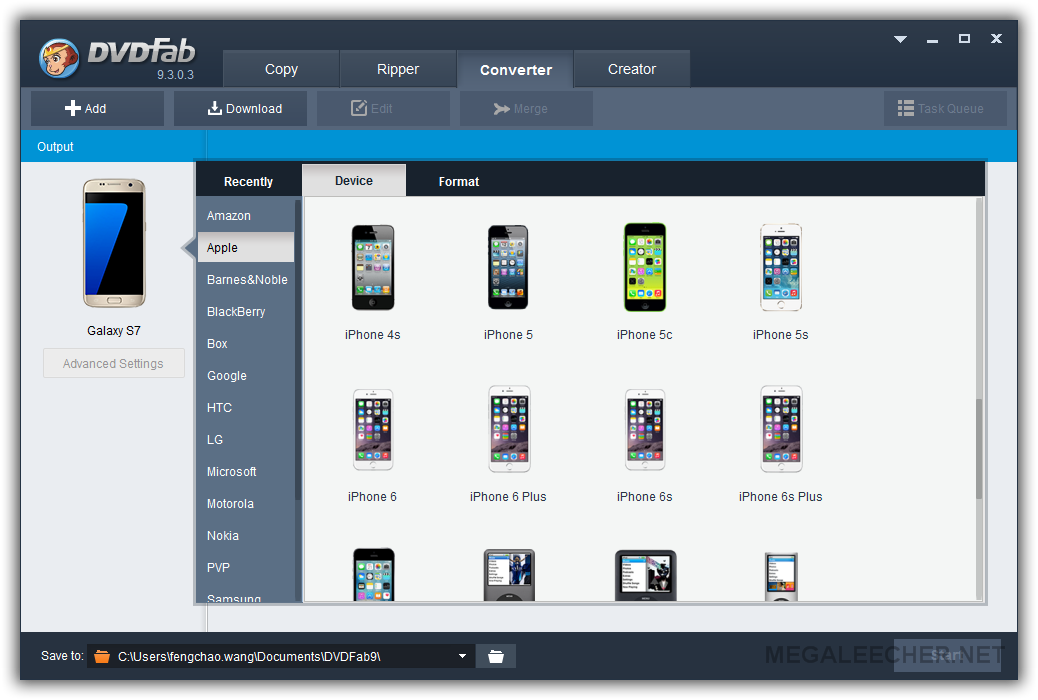 As shown above, DVDFab Video Converter is very user friendly and unbelievably easy to use, everyone should have no problem with it. With this being said, does it mean that this amazing video converter is for rookies and amateurs only? Absolutely not! On the contrary, it is professional video converter software for both common folks who just want to watch a piece of video on a certain device, and for those technically experienced audiophiles and videophiles who have solid background knowledge relating video encoding and decoding. In case you belong to the latter group, you can read on for something seemingly more technical related.
DVDFab Video Converter gives professional level users many options if they would like to make the conversions their own ways which are usually based on the actual needs, for example, they can feel free to customize anything they need to at the Video Effect Settings panel and Advanced Settings panel, where features like trimming, cropping, watermarking, external subtitle rendering, brightness/contrast/saturation adjusting are available with the former, while video parameters regarding encoding method, bit rate, file size, frame resolution, aspect ratio, frame rate, and audio parameters like bit rate, channel and volume can be further customized.
Supported input file formats: 3GP File ( *.3gp; *3g2 ), ASF File ( *.asf ), AVI File ( *.avi; *.divx ), FLV File ( *.flv ), M2TS File ( *.m2ts ), MOV File ( *.mov ), MP4 File ( *.mp4; *.m4v ), to MPEG File ( *.mpeg; *.mpg; *.dat ), MKV File ( *.mkv ), RMVB File ( *.rmvb; *.rm ), TS File ( *.ts ), VOB File ( *.vob ), WMV File ( *.wmv ).
Supported output file formats: video formats including MPEG-4, DivX, Xvid, H.264, AVI, MKV, FLV, WMV, DPG, 3GP, etc. Audio formats including MP3, MP4, M4A, WMA, WAV, AC3 and DTS.
Supported output devices: All the smart phones and tablets made by Apple, Samsung, LG, Google, Motorola, Sony, Microsoft, Amazon, Blackberry, HTC, NOKIA, Huawei, Xiaomi, Meizu, OnePlus, and Lenovo, including the 3D capable devices.
Multi-core CPU and hardware acceleration: this video converter uses up-to-date technologies like multi-core CPU processing, Intel Quick Sync and hardware acceleration solutions from NVIDIA CUDA, AMD, DXVA so as to make blazing fast conversion speed and batch conversion a reality.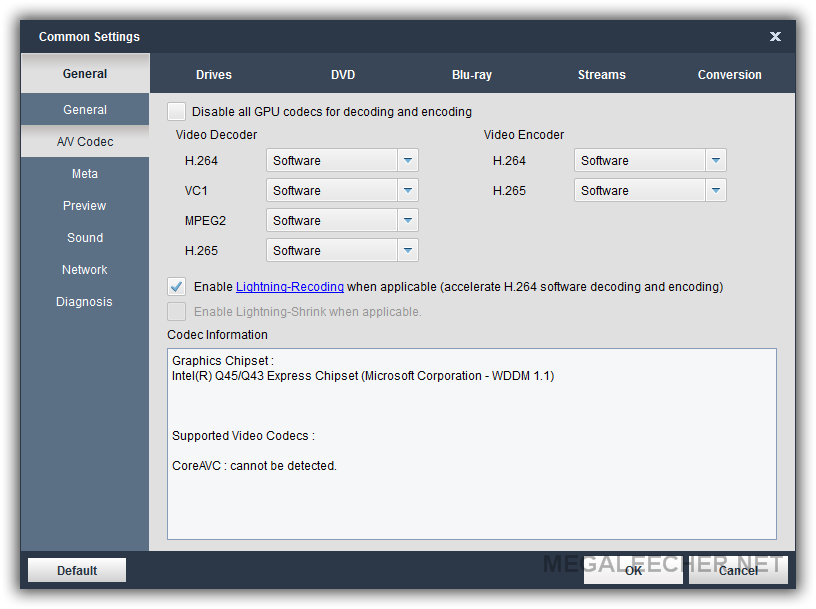 DVDFab Video Converter is an easy-to-use yet very professional video converter software for both entry-level users and video experts to convert whatever video they might come across with. It is an indispensable multimedia tool to movie lovers who develop a habit of watching videos on portable devices like smartphones and tablets when on trips. It is safe to say that once you get your hands on, a departure could mean a disaster.