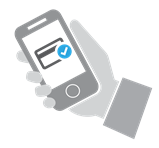 The Narendra Modi government in India is taking nessecary steps to make digital techology a core strategy to deliver happiness to it's citizen. We covered FASTag RFID Automated Toll Collection system earlier, and today we will write about the "Unified Payments Interface (UPI)" - a system which is slowly taking shape to change the landscape of how people make financial transaction in India.
The online industry has been booming at a rapid pace in the recent times, so much so that most of top brands in Fortune 500 list are online brands. From social media platforms to online shopping websites, there is no dearth of online players in the industry. However, the one thing that is universal across all online platforms is online payment system. Today, every website accepts Paypal, Bitcoin, Credit/Debit Card and Netbanking. However, there is no denying the fact that it is a hassle to enter all your details every time you have to make a payment online. While all websites offer saving these details for easy future payments, however, they are not considered safe and are at the risk of getting stolen. To address this issue, Reserve Bank of India launched a new smartphone based service called Unified Payments Interface (UPI) in the country. UPI is being touted as the future of online banking and here is why?
You can think of UPI as the advanced version of the existing Immediate Payment Service (IMPS). Some people are also calling it a virtual debit card as it does all the functions of a debit card or netbanking. However, UPI happens to be safer and more secure alternative. If you opt to make payment through the UPI method, the transfer of money takes place without using any conventional method of payment. All it takes is an app on your smartphone and support of the banks in transaction. 29 banks have already agreed to provide UPI service and as many as 21 banks have already registered as payment service providers under UPI. This is a good initiative as it only takes a couple of click and payment would be directly transferred from your bank account to the merchant's bank account.

One valid question that arises here is that how is it any better than the existing online payment mode viz. Netbanking. For starters, the UPI system uses Two Factor Authentication, which adds an extra layer of security. When users choose UPI as the payment mode on online merchant website, a push notification appear on their smartphones through UPI app. All that users has to do is enter his secure MPIN, which is Mobile Banking Pin and the transaction will be successfully completed. This eradicate the whole process of entering details of netbanking/credit card/debit card online and eliminates the risk of data being stolen. Moreover, it works through Virtual Payment Address, which is a unique address containing all bank details and is used for transactions. This way the second party do not even get the bank account number and the payment is done instantly. In this way, UPI is as safe as it gets when it comes to online payment and is a must have.

UPI Is quite simple to work around as all you have to do is to choose it as a payment method and input your MPIN on the smartphone when prompted; the payment will be done. This is a part of the Two Factor Authentication that has been mandated by the RBI for online payments. When a user registers for UPI, a virtual payment address is generated, which contain all details of the bank account number and is used for the transaction. This way the details of use is safeguarded against any kind of misuse or hack and the whole process speeds up as well. UPI has made it possible to have instant and secure online transactions for every smartphone user.

Samsung already has integrated this concept in its devices as Samsung Pay and Apple has integrated as Apple Pay. However, these services are yet to reach the Indian shores and Indian smartphone users have been missing out on the convenience provided by the feature. However, now that the UPI is out, it is to be expected that Indian handset makers will adopt it. Brands like Micromax, YU Intex, Karbonn and Xolo would be the first to integrated UPI. This is because these are the brands that are inclined towards offering premium features to their users in affordable price.
Considering the pros and cons of UPI, It seems that the new online payment service is the future of online shopping in India. As and when the service is launched to the general public and banks get on-board, it is going to change the face of shopping experience in India.